PADANG, KOMPAS.com – Relatives of Rusli, a resident of West Sumatra province's West Pasaman district are fearing the worst, when he disappeared after taking wudu or ritual ablutions before prayer at the Batang Sikabau River on Sunday, January 17.
"The locals reported Rusli missing at 3 PM, though witnesses suspected that he was taken by a crocodile two hours before," Zulfahmi, the head of West Pasaman's SAR branch, told Kompas.com.
"The locals attempted to search for Rusli after he went missing. We then held a joint search after they filed their report." But the West Pasaman branch of the Nature Conservation Agency (BKSDA) has yet to say whether crocodiles are behind Rusli's disappearance.
Also read: Animals Gone Wild: Indonesian Man Bluffs Sumatran Tiger into Fleeing
"We will observe the area [on Monday, January 18] before we can say if he was snatched by crocodiles," said Rusdian, head of the BKSDA's in West Pasaman.
"This attack is something new, as there has been no reported conflicts between humans and crocodiles before on the river."
Meanwhile, residents of Jambi Province's Teluk [Bay] Dawan district living on a tributary of the Batanghari river reported that they lived in fear of giant saltwater and freshwater crocodiles measuring from three to 6 meters for years, particularly during the rainy season.
"The crocodiles often converge as the waters rose during floods. There are so many of them that the waters resemble a crocodile pond," said Teluk Dawan resident Joni Iskandar. "They would be in the area all day. The situation is so bad, we would keep our children indoors."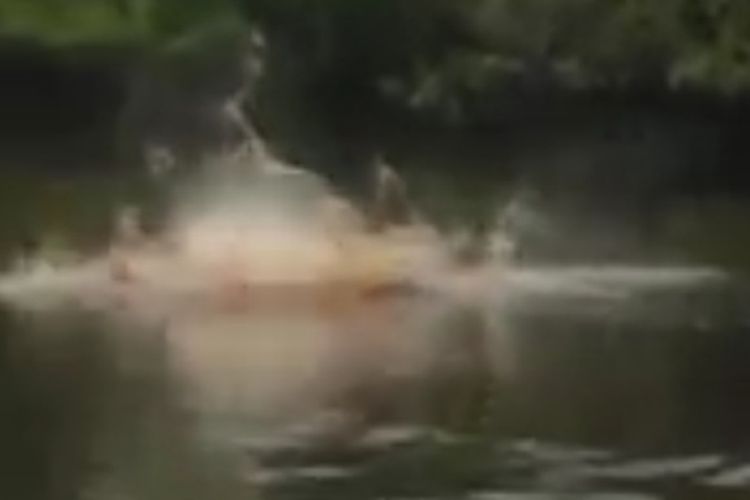 Giant crocodiles splashing in the water, as seen by locals in Jambi provinces Teluk Dawan district
Also read: Animals Gone Wild: Two Wild Elephants Roam Around Village in Indonesia's Riau
In 2018, an 11-year-old child was nearly mauled by a crocodile in the river, before his mother saved him from the reptile.