JAKARTA, KOMPAS.com – Indonesia's airline industry started 2021 on the wrong foot, as a Sriwijaya Air flight from Jakarta to Pontianak lost contact soon after taking off from Soekarno-Hatta International Airport.
The disaster spurred a mass rescue effort to find the 62 passengers and crew on board the flight, or at least find the wreckage of the plane to piece the tragedy together. The initiative involved fishermen, the National Search and Rescue Agency [BASARNAS] and the Indonesian military.
And a tugboat carrying a barge with 4000 tons of coal from Banjarmasin, South Kalimantan to Surabaya East Java went badly, after the tugboat capsized. No casualties were reported. Read on to get the latest news, as curated by our editors: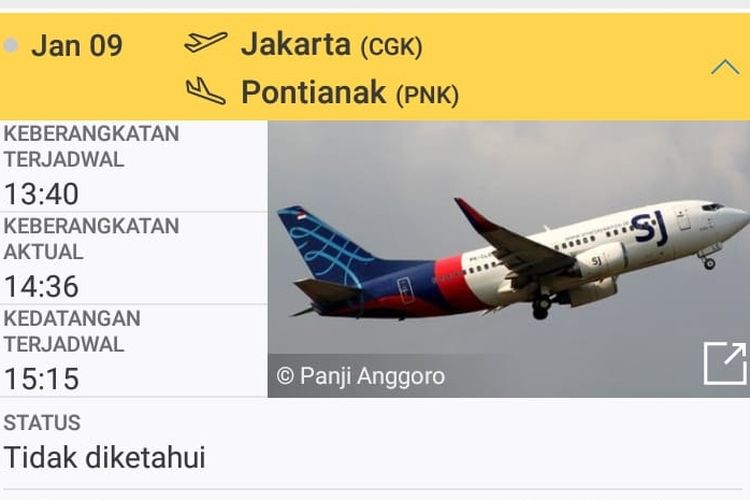 Sriwijaya Air Flight SJ182, which lost contact on Saturday (9/1/2021)
1. Sriwijaya Air Flight From Jakarta to Pontianak Loses Contact Over Jakarta's Thousand Islands
A Sriwijaya Air Boeing 737-500 flying from Jakarta to Pontianak, West Kalimantan Province on Saturday, January 9, 2021 has lost contact with ground controllers at the Soekarno-Hatta International Airport.
"Sriwijaya Air flight SJ 182 from Jakarta to Pontianak has lost contact at approximately 2.40 pm," Indonesian Ministry of Transportation spokesperson Adita Irawati said to Kompas.com. "Flight SJY 182 was last sighted over the Thousand Islands [off Jakarta],"
She added that the Ministry of Transportation is coordinating with the National Transportation Safety Committee or KNKT and the National Search and Rescue Agency [Basarnas] to find the lost flight.
Thousand Islands Regent Djunaedi reiterated Adita. "[Sriwijaya Air Flight SJY 182] was seen to go down near Laki Island. District chiefs in the area saw the plane hit the water at 2.40 pm," he asserted.
Source:
https://go.kompas.com/read/2021/01/09/183117374/sriwijaya-air-flight-from-jakarta-to-pontianak-loses-contact-over-jakartas?page=all#page2.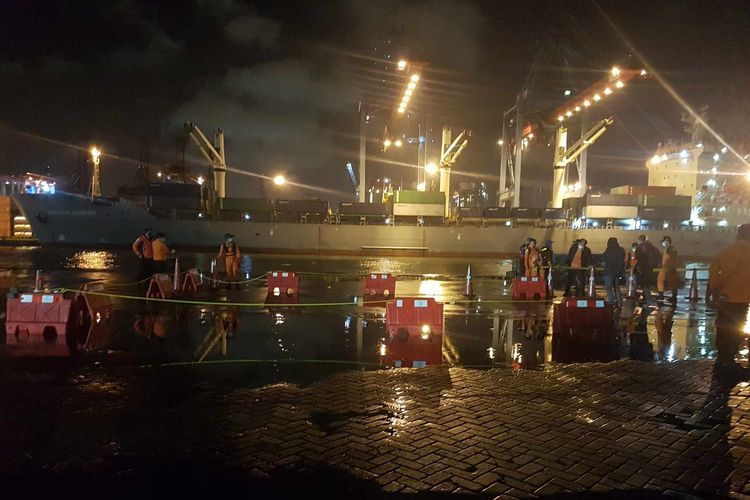 A Basarnas vessel docked in Jakartas Tanjung Priok Harbors Jakarta International Container Terminal II (JICT II) before searching for Sriwijaya Air Flight SJ 182 on Saturday (9/1/2021)
2. Indonesian Investigators Pinpoint Location of Sriwijaya Air Flight SJ 182
The Indonesian Ministry of Transportation's National Transportation Safety Committee [ KNKT] announced that it found the approximate location where Sriwijaya Air Flight SJ 182 went down off Jakarta on Saturday, January 9.
62 passengers and crew were on board the Boeing 737-500 when it lost contact with air traffic controllers at Soekarno-Hatta airport in Tangerang, Banten.
"Flight SJ 182 approximately went down between the Thousand Islands' Laki and Lancang Islands," said KNKT head Soerjanto Tjahjono.
"[The National Search and Rescue Agency or Basarnas] are already on the way to the site. The KNKT will assess the waters on Sunday to determine what sort of equipment are needed for the underwater recovery [of Flight SJ 182]."