JAKARTA, KOMPAS.com – The Indonesian government might receive the thanks of millions of Indonesians sick and tired of the Islamic Defenders Front [FPI], after they finally outlawed the infamous hard-line organization after it first appeared in Indonesian politics in 1998.
Yet legislators, civil society groups and the media are not so upbeat, after they accused President Joko Widodo's administration of trampling freedom of speech in its efforts to take down the militant organization.
Indonesia is set to begin mass Covid-19 vaccinations, with the first 40 million people to get the treatment between January 15 to 25, 2021.
And last but not least, Indonesian's preeminent medical group, the Indonesian Doctors Association or IDI disclosed the ravages that Covid-19 wreaked on the profession.
IDI noted that the coronavirus have killed over 500 medical workers, nearly a year after it was first detected in Indonesia in March 2020. Read on to get more details of these and other news: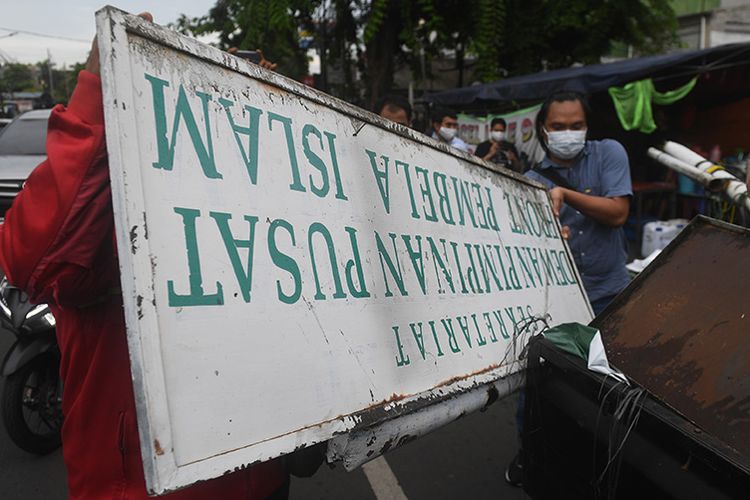 FPI signposts taken down at the groups offices in Petamburan, Central Jakarta, Wednesday (30/12/2020)
Indonesian National Police Under Fire for FPI Circular
Parliament, civil society groups and the media are up in arms over an Indonesian National Police circular outlawing the Islamic Defenders Front [ FPI], after one of its points was deemed to undermine freedom of speech.
Lower House legislator Arsul Sani urged the police to take the back the point that threatened prosecution for "accessing, downloading, and distributing the FPI's content through websites or social media," he noted.
"The police need to elaborate this point, because its open ended nature is liable to be misused or misinterpreted". Arsul added that the document is more suited internally for the police instead of the public.
Indonesian press organizations, among them the Alliance of Independent Journalists [AJI], the Editor-in Chief Forum [Forum Pemimpin Redaksi], and Indonesian Cyber Media Association [AMSI], strongly criticized the article.