JAKARTA, KOMPAS.com – Islamic Defenders Front (FPI) head Rizieq Shihab continues to hold his followers under his sway hours after the Jakarta Metropolitan Police jailed him for violating health protocols last weekend.
The Jakarta Metropolitan Police questioned a youth identified as Muhammad Umar on Monday, December 14, a day arresting him for threatening the police on social media.
"[Muhammad Umar] uploaded a video on social media where he threatened to behead a policeman if we arrested Rizieq. We were tipped off by netizens who were alarmed by its content," said Jakarta Metropolitan Police spokesman Chief Police Commissioner Yusri Yunus.
Also read: Indonesian President on Rizieq Shihab's Arrest: Law and Order Must be Enforced
"Umar admitted to recording and uploading the video because he was a fan of Rizieq. But we cannot determine any other motives as he repeatedly apologized and regretted his bad judgment [in making the video]."
Yusri added that investigators are still trying to determine his motives.
Meanwhile, dozens of FPI members in the city of Tangerang, Banten Province came to police stations across Tangerang on Monday, December 14, among them a station in the Pasar Kemis area, to express their solidarity with Rizieq and demand that they be jailed as well.
"The crowd request that they be detained because they also took part in FPI gatherings at Petamburan, Central Jakarta, that were the main reasons that Rizieq is behind bars," said Tangerang Police Precinct head Chief Police Commissioner Ade Ary.
"They also called on the police to release [Rizieq] and clear the charges against him."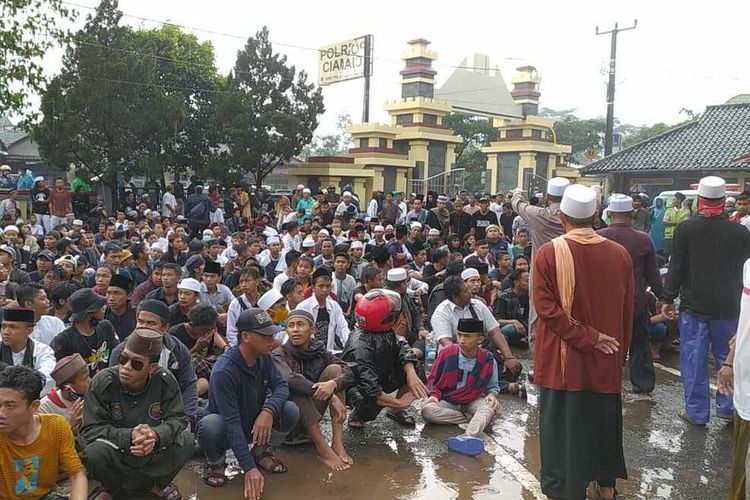 FPI members in Ciamis, West Java protest Rizieq Shihabs arrest by the Jakarta Metropolitan Police on Sunday, (13/14/2020)
Also read: Jakarta Metropolitan Police Arrest FPI Chief Rizieq Shihab
FPI members in the town of Ciamis, West Java province was just as strident in defending Rizieq in a similar gathering on Sunday, December 13. They insisted they were also in Petamburan, hence they should be jailed along with Rizieq.
Ciamis police precinct head Chief Police Commissioner Doni Eka Putra dismissed their demands on grounds that Rizieq's case is the jurisdiction of the Jakarta Metropolitan Police, not the Indonesian National Police.
The Jakarta Metropolitan Police arrested and detained Rizieq last Sunday after he was charged with violating health protocols by drawing crowds for his daughter's birthday and celebrating an Islamic holiday on November 14.
The police also questioned five others for their complicity in the incident but released them. The police also had the FPI in their sights after they killed six members of the vigilante group for assaulting investigators at a toll road outside Jakarta last week.
(Writers: Muhammad Isa Bustomi, Ivany Atina Arbi | Editors: Nursita Sari, Irfan Maullana)
Sources:
https://megapolitan.kompas.com/read/2020/12/14/16471741/pemuda-ancam-penggal-polisi-karena-kagumi-sosok-rizieq-shihab.
https://megapolitan.kompas.com/read/2020/12/14/16544581/kala-massa-pendukung-rizieq-shihab-berbondong-bondong-minta-ikut?page=all#page2.
Dapatkan update berita pilihan dan breaking news setiap hari dari Kompas.com. Mari bergabung di Grup Telegram "Kompas.com News Update", caranya klik link https://t.me/kompascomupdate, kemudian join. Anda harus install aplikasi Telegram terlebih dulu di ponsel.