LAMPUNG, KOMPAS.com – Indonesian conservationists at Lampung Province's Bukit Barisan Selatan National Park have released a pair of golden cats (Catopuma temminckii) back into the wild.
The felines' rewilding comes six months after a similar attempt in the neighboring province of West Sumatra last June ended with the endangered species' death.
The initiative was a coordinated operation between the Nature Conservation Agency (BKSDA) offices of Lampung and West Java.
Also read: BKSDA Conservationists in West Sumatra, Indonesia Trap Sumatran Tigers
"The golden cats were released back to the wild on Tuesday, December 8 after two years of rehabilitation," said West Java Nature Conservation Agency (BKSDA) head Ammy Nurwati in a press release on Friday.
"They were a male and female we named Gato and Goldie, whom we rehabilitated over a two-year period at a wildlife center in Bogor, West Java, following their rescue by a police unit tackling the illegal wildlife trade in 2018."
Ammy noted that like other rehabilitated animals, the golden cats "were stimulated to use their natural behavior and are restored to health until they are ready to go back to the wild".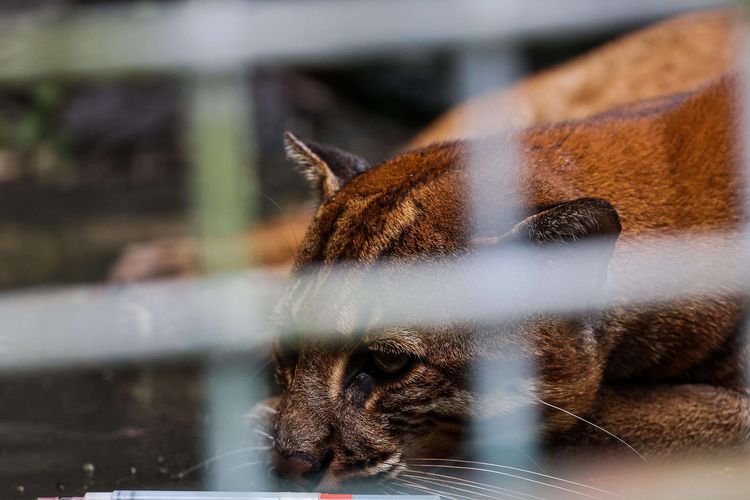 One of two golden cats released into the wild at Bukit Barisan National Park during their rehabilitation at the ASTI Animal Rehabilitation Center in Bogor, West Java, Monday (7/12/2020)
Also read: Golden Cat Gets Tangled Up in Wild Boar Trap in Indonesia's West Sumatra
The golden cats are protected by a 1990 law on wildlife. Under this law, trafficking in the cats and other wildlife carries a maximum sentence of five years in jail and a Rp. 100 million ($7,103.58) fine.
The World Wildlife Fund (WWF) considers a golden cat as among forest cats alongside the tiger, leopard, and clouded leopard. In Indonesia, which is one of 12 countries where they can be found, they can only be found in Sumatra.
However, the law does not stop people living near the golden cats' habitat from poaching them for their fur or other body parts, or killing the felines for preying on livestock. The golden cats are also often killed or injured by contraptions like boar traps or pesticides.
(Writer: Tri Purna Jaya, Lampung Contributor | Editor : Abba Gabrillin)
Sources:
https://regional.kompas.com/read/2020/12/12/15213601/sepasang-kucing-emas-langka-kini-siap-dilepas-ke-hutan.
Dapatkan update berita pilihan dan breaking news setiap hari dari Kompas.com. Mari bergabung di Grup Telegram "Kompas.com News Update", caranya klik link https://t.me/kompascomupdate, kemudian join. Anda harus install aplikasi Telegram terlebih dulu di ponsel.