JAKARTA, KOMPAS.com – Indonesian security forces in Jakarta have vowed to take stern action against Islamic conservative groups, including the FPI, if they celebrate an annual gathering at the National Monumen or Monas known as the 212 Reunion Rally.
"The FPI, the National Movement to Safeguard Ulama [GNPF-U] and others have written a statement that they will cancel [this year's 212] gathering," Jakarta Miitary Commander Major General Dudung Abdurachman said to the Antara state news agency on November 23.
"If the FPI break their word, [the Jakarta Military Command] and the [Jakarta Metropolitan] Police will crack down on them. The military, police and Public Order Agency [Satpol PP] have taken down over 900 illegal FPI banners and similar posters since last September."
Also read: Jakarta Military Commander Calls For FPI's Disbanding
He added that the FPI raised the banners again after they were taken down in Jakarta. Military spokesman Lieutenant Colonel Herwin Budi Saputra was just as scathing about the banners.
"The FPI banners [featuring chief Rizieq Shihab] are provocative in nature. What is wrong with Indonesia to the extent that it needs a 'moral revolution', as the banners said?," he noted. The authorities also tore down FPI banners in East Java.
The move drew the FPI's disdain. "It is amusing to see [the military] bothering with some banners, or discussing the disbanding [of the FPI]," said FPI lawyer Aziz Yanuar.
"[Dudung] should be penalized for touching on issues outside his authority. The military detaining soldiers expressing support for Rizieq and doing nothing to Dudung reflects their double standards."
Dudung has warned the FPI that he will crack down on them if they sowed division among the Indonesian public.
Also read: Indonesia Highlights | 212 Alumni Reunion Canceled | Indonesia Backpedaling on Democracy | Tokopedia Gains 2 New Investors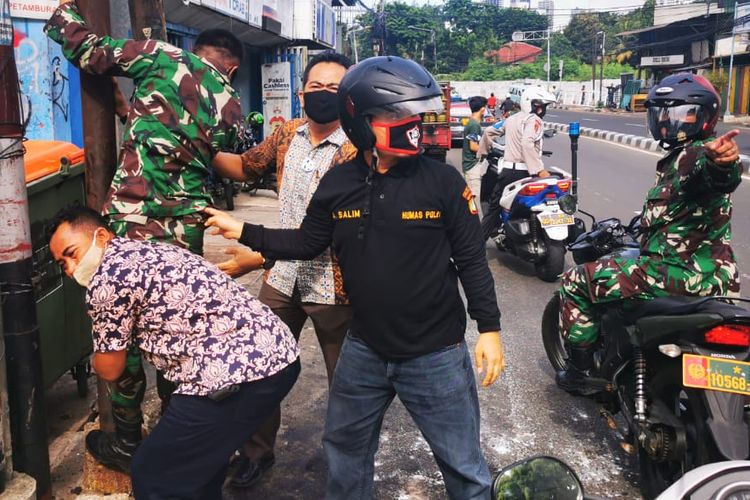 Military and Police personnel tear down FPI banners in Jakarta [20/11/2020]