JAKARTA, KOMPAS.com - Islamic Defenders Front [FPI] chief Rizieq Shihab has put Indonesian government officials in a tight spot. The authorities' impulses to pander to the firebrand Islamic cleric clashed with President Joko 'Jokowi' Widodo and the public's demand that they do their job in an impartial manner.
Among the officials hard-pressed to be impartial included Jakarta Governor Anies Baswedan, who was elected to the post in 2017 on a wave of support from radical Muslim groups, including the FPI.
His Deputy Governor Ahmad Riza Patria is also under pressure to practice what he preaches.
The Gerindra Party stalwart's calls for more muted Christmas and New Year's celebrations contrast with his willingness to turn a blind eye to the FPI's flaunting of health protocols, even to the point of showing up to one of their gatherings at the end of last week.
Read on to get more details of these news, as curated by our editors: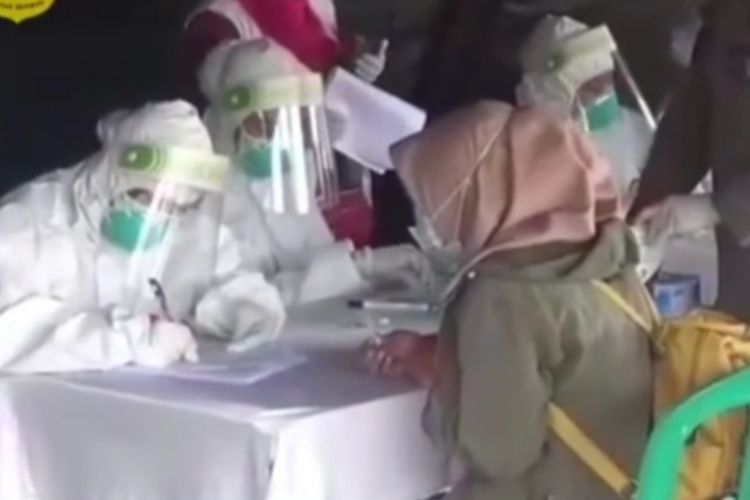 Health workers in Bogor, West Java carry out a Covid-19 rapid tests (1/11/2020)
President Jokowi Reminds Officials to Impartially Enforce Health Protocols
President Joko Widodo has urged police and military personnel to lay down the law against anyone who disobeyed the government's health protocols, such as wearing masks, practicing social distancing and washing hands, in its fight against Covid-19.
"We should not allow the sacrifices of doctors, nurses and other health workers be in vain because the government does not have the will to enforce health protocols [to combat the spread of Covid-19]," said the 58-year old in a press release on 16 November.
"Compliance with health protocols are imperative, as nobody is immune to the coronavirus. We should maintain the progress we made, such as reducing the percentage of active cases to 12.82 percent, down from 27.85 percent."
He added that while our recovery stands at 83.92 percent, higher than the global average of 69.73."
Jokowi added that governors, their deputies and others should set a good example for the public, instead of participating or allowing gatherings like the FPI's welcoming committee for Riziek at Soekarno-Hatta International Airport, or his similar visit to West Java's Puncak tourist area.
Source:
https://nasional.kompas.com/read/2020/11/16/19115761/jokowi-jangan-sampai-pengorbanan-tenaga-kesehatan-sia-sia-karena-pemerintah.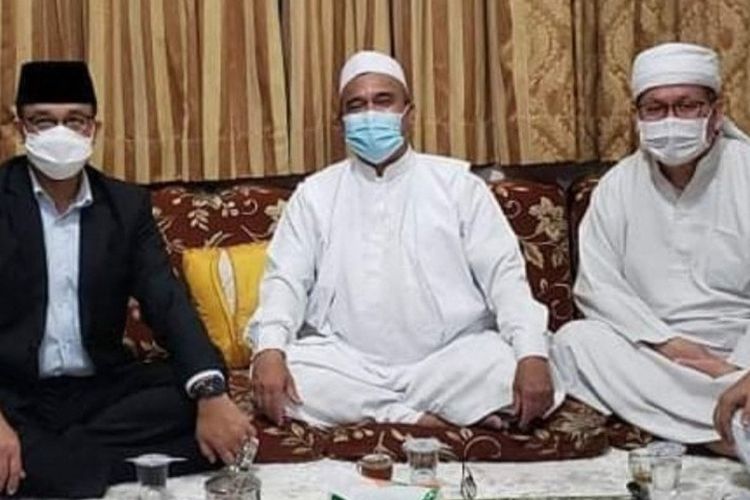 Jakarta Governor Anies Baswedan (left) visits FPI chief Habib Rizieq (middle) along with MUI Deputy Secretary General Tengku Zulkarnain (10/11/2020)
Jakarta Governor Anies Baswedan Gets Fallout From FPI's Disregard of Health Protocols
The central government has ordered the police to summon Jakarta Governor Anies Baswedan because of his inability to enforce health protocols in the capital after Rizieq Shihab's return from exile.
"We have warned [Anies] that he should to remind the FPI to comply with health protocols, especially when they carry out gatherings like the wedding of Rizieq's daughter," said Coordinating Minister for Political, Legal and Security Affairs Mahfud MD.
"Ensuring the [FPI's compliance] with health protocols is [Anies] and the Jakarta Provincial Administration's responsibility." Mahfud added that the central government regretted the FPI's flaunting of health protocols.
The Indonesian National Police [Polri] also summoned Anies in connection with the wedding reception, which was attended by more than 10 thousand FPI fanatics and their allies.
"The parties we summoned include the Jakarta Provincial Administration, the Covid-19 Task Force, and a number of attendees," said Police spokesman Inspector General Argo Yuwono. "We will ask them to clarify their actions, so as to determine if they broke a 2018 law on health quarantines."
But Anies denied that he let off Rizieq easy. "I have sent [Rizieq] a letter urging him to comply with health protocols, then gave him with a Rp. 50 million [$3,549.14] fine when he failed to do so," he maintained. The FPI said Rizieq paid the fine.
Source:
https://megapolitan.kompas.com/read/2020/11/16/17403601/buntut-acara-rizieq-shihab-kapolda-dicopot-anies-diperingatkan-dan?page=all#page3.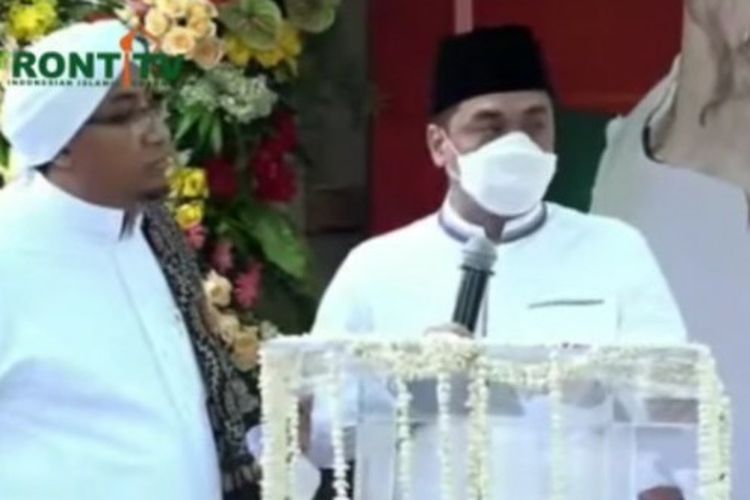 Jakarta Deputy Governor Ahmad Riza Patria makes a speech at an FPI rally in Tebet, South Jakarta (13/11/2020)
Jakarta Deputy Governor Ahmad Riza Patria Calls For Muted Christmas and New Year Celebrations
Jakarta Deputy Governor Ahmad Riza 'Ariza' Patria announced that he is considering smaller scale celebrations for Christmas and New Year's Day.
"The step depends on existing regulations and laws. They will then be adjusted accordingly," he said on 16 November.
"We urge the revelers to limit the number of guests in compliance with Covid-19 health protocols. Any violators will be fined Rp 50 million, while repeat offenders are liable to pay Rp. 100 million."
However, he defended his presence at an FPI rally in South Jakarta's Tebet neighborhood. "We did not have enough personnel, particularly from the Jakarta Public Order Agency, to enforce health protocols," he said.
"I did attend as I was invited, and I assumed the event would be orderly. But [we and the FPI] did not expect such a large crowd. They were local people who were not invited, so we cannot control them."
Source:
https://megapolitan.kompas.com/read/2020/11/16/20061891/wagub-dki-minta-perayaan-natal-dan-tahun-baru-dilaksanakan-dengan-peserta.
Dapatkan update berita pilihan dan breaking news setiap hari dari Kompas.com. Mari bergabung di Grup Telegram "Kompas.com News Update", caranya klik link https://t.me/kompascomupdate, kemudian join. Anda harus install aplikasi Telegram terlebih dulu di ponsel.