JAKARTA, KOMPAS.com - The Indonesian government's investigation of the death of Papuan priest Yeremia Zanambani has gone back to square one, as conflict rages on between the Indonesian security personnel and insurgents in Papua.
Indonesia's Covid-19 Task Force pointed out the country's high coronavirus fatality rate, more than eight months after the pandemic gripped Indonesia and the rest of the world.
Jakarta is taking viable steps of becoming a green city, as the capital's provincial administration plans to cooperate with the Indonesian Air Force to turn the empty land in the Halim Perdanakusumah Air Base into an agritourist center.
Read on for more details of these articles, as curated by our editors:
Indonesian National Police spokesman Brigadier General Awi Setiyono at a press briefing [16/10/2020] ANTARA FOTO/Reno Esnir/wsj. *** Local Caption ***
1. Investigations of Papuan Priest's Death Encounters A Snag
Indonesian authorities investigating the death of Yeremia Zanambani, a Papuan priest killed during the escalating conflict between the government and insurgents in the province, found themselves back at square one nearly two months after his death in the conflict,
"Yeremia's family refused to allow us to carry out an autopsy of his remains because of cultural reasons," said National Indonesian Police spokesman Brigadier General Awi Setiyono on 11 November.
"Unfortunately this poses problems for the investigation, as we need the autopsy to determine the cause of death, such as the weapon used to kill him, the type of bullet that was used and so on."
Yeremia's son Rode confirmed Awi's premise. "An autopsy [on Yeremia] goes against [Papuan] culture and traditions," he said in a written statement on 11 November.
"We believe that it is taboo for a person's buried remains to be brought up again, as doing so will create problems for the deceased's loved ones."
Yeremia was killed in the Papuan regency of Intan Jaya, which has been the site of conflicts between Indonesian military and police personnel and insurgents. His death took place in Intan Jaya's Hitadipa district.
Two separate investigations by the Joint Fact Finding Team [TGPF] and the National Commission on Human Rights [Komnas HAM] have indicated the complicity of Indonesian military personnel. The latter found evidence of torture consistent with an extrajudicial killing.
Source:
https://nasional.kompas.com/read/2020/11/11/16390321/keluarga-pendeta-yeremia-tolak-jenazah-korban-diotopsi-polri-ini-yang-jadi.
Indonesian Covid-19 Task Force spokesman Wiku Adisasmito at a press briefing [5/11/2020]
2. Indonesia's Covid-19 Task Force Highlights the High Death Rate From the Pandemic
Indonesia's Covid-19 Task Force has noted that the death rate from the pandemic continues to be higher than the global average, even as the government managed to check the number of active cases .
"[Indonesia's] Covid-19 death rate is 3.33 percent, higher than the global average of 2.47 percent, according to government data up to 8 November. This number is higher than other countries in Asia, Europe or the Americas" said Task Force spokesman Wiku Adisasmito on 11 November.
"Indonesia's death rate is the highest in Southeast Asia. In contrast, Singapore's Covid-19 death rate is 0.04 percent, Malaysia's is 0.71 percent, Thailand's is 1.5 percent, the Philippines is 2 percent, while Myanmar's is 2.31 percent."
He also noted that the rate is higher than other countries in Europe and the Americas such as Belgium with 2.6 percent, the United States with 2.34 percent and France with 2.26 percent, is still lower than Indonesia.
"This high death rate is an aspect that we still need to work on. We should learn from other countries which managed to check the number [of their Covid-19] deaths," Wiku asserted. "We will continue the 3 T's of testing, tracing and treatment to reduce the death rate."
He also called on the emergency services to be more prompt in treating Covid-19 cases, so as to help reduce the death rate.
On the other hand, the number of active Covid-19 cases in Indonesia stands at 12.16 percent, lower than the global average of 27.16 percent. The latter figure ranged from 90.55 percent in France, 34.78 percent in the US, to 27.4 percent in Malaysia.
Source:
https://nasional.kompas.com/read/2020/11/11/21363231/satgas-angka-kematian-covid-19-di-ri-333-persen-dunia-247-persen?page=all#page2.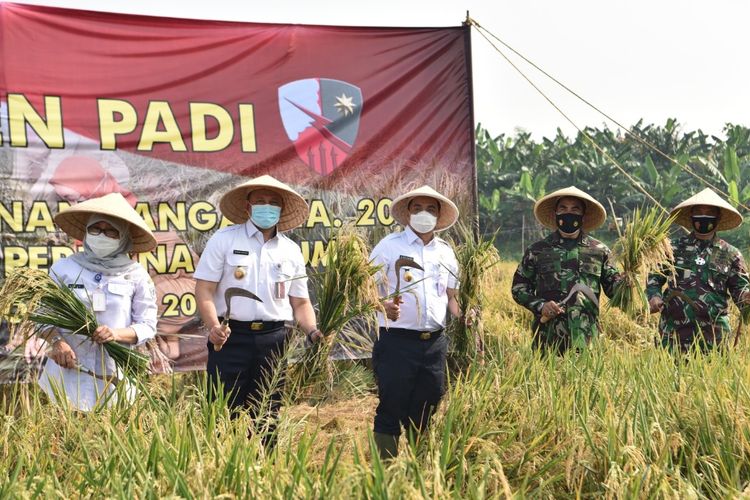 Jakarta Deputy Governor Ahmad Riza Patria and senior Indonesian Air Force officers work the land in the premises of the Halim Perdanakusuma Air Base [11/11/2020]
3. Jakarta Plans to Develop Empty Land On the Halim Perdanakusuma Airbase Into An Agritourist Site
Jakaarta Deputy Governor Ahmad Riza 'Ariza' Patria announced that he plans to develop the empty land around the Halim Perdanakusuma Air Force Base into an Agritourist site.
The Gerindra Party politician practiced what he preached by harvesting rice paddies with a number of official, among them Halim Perdanakusuma Air Base commanding officer Air Marshal Purwoko Aji Prabowo and East Jakarta Mayor Hendra Hidayat.
"We hope that the rice that has been harvested can fill the needs of Jakarta's people," Ariza said in a statement on 11 November. "We also hope that we can increase [rice] production in the near future." He also thanked the Air Force for allowing rice farmers to work the land.
Purwoko noted that the Air Force has been working the land for years.
"[The Air Force] have been using 10 hectares of the land around Halim Perdanakusuma Air Base for agricultural purposes. Aside from rice, we have grown cassava, corn, bananas, rubber trees and other crops," he said.
"We also cultivated a number of food fish such as catfish, pomfret, and parrot fish."
The General Manager for Halim Perdanakusumah's civilian airport Nandang Sukarna supported Ariza's initiative. "An agritourist site on Halim Perdanakusumah will not bother the air traffic," he assured.
"Much of the empty land designated for the project is outside the perimeter of the air base and airport, so it will not get in the way of flight safety."
Source:
https://megapolitan.kompas.com/read/2020/11/11/20210521/wagub-dki-dan-jajaran-tni-panen-padi-di-lanud-halim-perdanakusuma.
Dapatkan update berita pilihan dan breaking news setiap hari dari Kompas.com. Mari bergabung di Grup Telegram "Kompas.com News Update", caranya klik link https://t.me/kompascomupdate, kemudian join. Anda harus install aplikasi Telegram terlebih dulu di ponsel.