JAKARTA, KOMPAS.com – Thousands of devout Muslim protesters converged at the French Embassy in Jakarta on Monday, November 2, to slam French President Emmanuel Macron's recent statement on 'Islamic separatism' in France.
AP reported that protesters from various Muslim groups, among them the Islamic Defenders Front (FPI) vigilante group, chanted "God is Great" and "Boycott French products".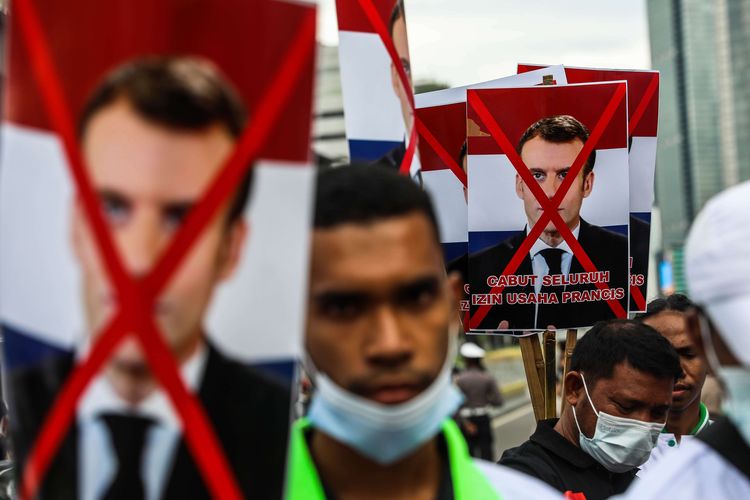 Indonesian Muslim groups express their outrage at French President Emmanuel Macrons comments on Islamic separatism during protests in front of the French Embassy in Central Jakarta, (2/11/2020)
A number of demonstrators burned and stomped Macron's images. "[Macron's stance] hurt us deeply and we demanded him to retract his words and apologize to Muslim communities all over the world," protest organizer Slamet Ma'arif said.
Central Jakarta Police precinct head Police Chief Commissioner Heru Novianto confirmed that the protests took place. "[The demonstration] began at 1pm and ended by 4pm."
Also read: Indonesian Religious Figures Weigh in on French President's Comments
"We [the police] and military deployed 5,091 men to safeguard the protest as well as another demonstration [by labor groups and students] on the government's Omnibus Job Creation Law near the Presidential Palace."
Smaller protests also occurred in other Indonesian cities such as Surabaya, Makassar, Medan and Bandung.
The French Embassy in Jakarta attempted to clarify Macron's statement on Islam. "President Emmanuel Macron made it clear that there was no intention at all to generalize [Islam]," it said in a statement.
"[President Macron] clearly distinguished between the majority of French Muslims and the militant, separatist minority that is hostile to the values of the French Republic."
Macron vowed to fight 'Islamic separatism' in France and called for French Muslims to be loyal to the French constitution following the beheading of schoolteacher Samuel Paty by a Chechen Muslim refugee.