RIYADH, KOMPAS.com – Former Indonesian Vice President Jusuf Kalla has continued his efforts in the religious sphere more than a year after he finished his tenure as President Joko 'Jokowi' Widodo's deputy in October 2019.
The two-time Vice President arrived in Saudi Arabia on October 24 as the head of the foundation for the International Museum of the History of the Prophet Muhammad and Islamic Civilization in Jakarta to meet with the World Muslim League (WML), the NGO behind the museum.
"Kalla touched on finalizing the design for the museum, its artwork and the stages of its construction in Jakarta with the WML," said foundation member Dr. Ali Hasan Bahar. "We hope to finish [construction] of the museum within 18 months after the design's finalization."
Also read: Indonesian VP Urges Islamic Boarding School Students to Help in Economic Development
The WML said the museum is the third to be built after similar edifices were built in the holy Muslim cities of Mecca and Medina. The NGO claimed the museum in Jakarta will be the biggest of its kind in the world once it is completed.
Thousands of ulemas and muftis around the world have verified the contents of the museum, whose cornerstone was laid on February 26.
Prior to his stop in Saudi Arabia, Kalla was in the Vatican for talks with His Holiness Pope Francis as a member of the Jury Committee of the Zayed Award for Human Fraternity.
"I conveyed [President Joko Widodo] and the Indonesian people's well wishes to the Pope, as well as our regrets that he cannot visit Indonesia because of the [Covid-19] pandemic," he said.
Also read: Bali to Host UN Event on Disaster Risk Reduction in 2022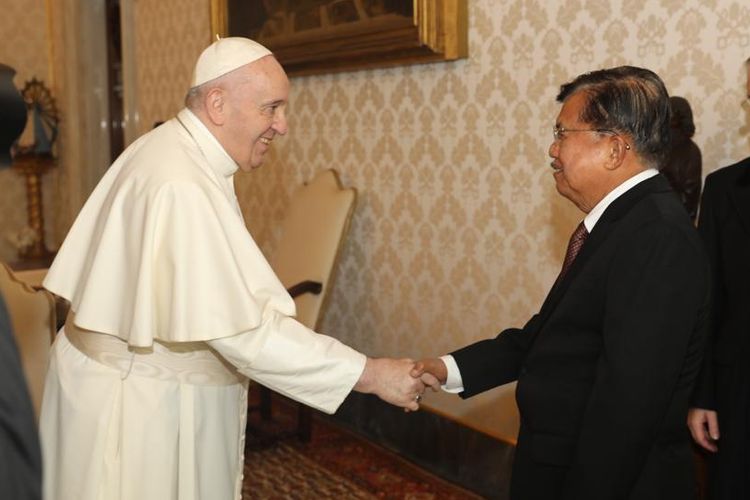 Former Indonesian Vice President Jusuf Kalla and other members of the Jury Committee for the Zayed Award meet with Pope Francis in the Vatican (23/10/2020)
"I also conveyed my appreciation of [Pope Francis'] work with [Dr Ahmad Al Thayyib], the Grand Imam of Cairo's Al-Azhar University in the field of human fraternity."