JAKARTA, KOMPAS.com – The Indonesian National Police announced that they arrested thousands of rioters in connection with the violence in Central Jakarta's Harmoni area.
The unrest left a police post up in flames and damaged the Ministry of Energy and Natural Resources' offices in the nearby Thamrin area, as the protesters attempted to head to the Presidential Palace to convey their grievances.
"The rioters were neither labor unions or university students, but anarchists from various organizations, most notably Anarko," said National Police spokesman Chief Commissioner Yusri Yunus.
Also read: Protests Over Controversial Jobs Creation Law in Jakarta Turn Violent
"The suspects admitted under questioning to infiltrating the ranks of laborers and students to cause unrest during the protests. Many of them are unemployed from various parts [of Indonesia] who came to Jakarta with the sole purpose of causing unrest."
Yusri added that many of the detained rioters were summoned via social media, and so had no idea about the contents of the controversial law.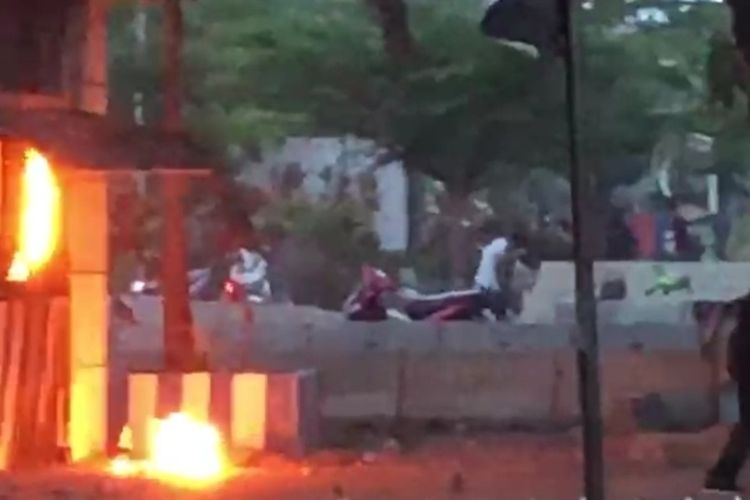 Protesters clash with police in Makassar, South Sulawesi (8/10/20)
South Sulawesi Regional Police Chief Inspector General Merdisyam reported similar findings following unrest in the regional capital Makassar.
"We noted that the anarchist groups infiltrated protests, especially after we drove them back from the Makassar flyover and regional parliament building," he said. "We urge the public not to get provoked by them."
Also read: Indonesian Police Anticipate Labor Protests Against Jobs Law
Aside from Jakarta and Makassar, the protests also flared up in cities like Bandung, Semarang, and Yogyakarta.