JAKARTA, KOMPAS.com – Protests over the government's controversial new Omnibus Jobs Creation Law on Thursday, October 8 have taken a violent turn, as thousands of demonstrators clashed with police and destroyed government installations and public infrastructure.
University students and labor groups intermittently fought police in Central Jakarta's Harmoni district. The conflict intensified as police sealed off streets leading to the Presidential Palace, which was one of the rioters' destinations.
Tensions simmered down as the demonstrators negotiated with Central Jakarta Police precinct head Chief Commssioner Heru Novianto, then erupted again when he refused to accede to their request to protest in front of the Palace.
Also read: Protests on Job Creation Law in Indonesia's West Java End in Chaos
Police used tear gas to disperse the protesters, which split in different directions. One group burned a police post as they were pushed back towards the Hotel Indonesia roundabout, before they turned their rage on the Ministry of Energy and Natural Resources.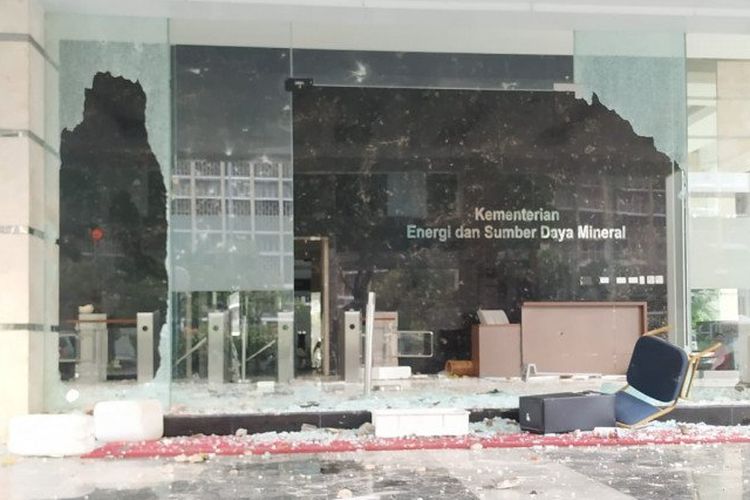 The devastation at the Ministry of Energy and Natural Resources after protesters attacked the building (8/10/2020)
Eyewitnesses saw the protesters jumped the fence and threw stones at the facade of the building before attempting to set the edifice on fire and damaged at least one vehicle. The mob also destroyed at least one Transjakarta bus stop and damaged sidewalk pavements.
Police remained on standby well into the night to seal off routes heading to the Presidential Palace and the Parliament Complex, the two locations targeted by protesters.
Riots over the controversial law also erupted in other Indonesian cities like Bandung, West Java, and Makassar, South Sulawesi.
President Joko Widodo's coalition — Indonesian Democratic Party of Struggle [PDI-P], Golkar and other parties — passed the jobs bill into law on Monday, October 5.
Also read: Indonesian Government Coalition Pass Controversial Jobs Bill Into Law
The government ratified the legislation despite opposition from the Democrat and Social Justice (PKS) parties in parliament, trade unions, and civil society groups.
The law is controversial, as some of its clauses allegedly increased the workday from five to six days and reduced the amount of severance pay.
Yet its initiators, such as Coordinating Miister of Economic Affairs Airlangga Hertanto, maintained that the law can stimulate investment by streamlining procedures, among them cutting through more red tape and reducing the number of days to obtain business permits,.
(Writers: Rosiana Haryanti, Sonya Teresa Debora | Editors: Sabrina Asril, Jessi Carina)
Sources:
https://megapolitan.kompas.com/read/2020/10/08/17141381/sempat-mereda-bentrok-terjadi-lagi-di-simpang-harmoni?page=all#page2.
https://megapolitan.kompas.com/read/2020/10/08/17471861/unjuk-rasa-berujung-ricuh-pos-polisi-di-jalan-merdeka-daya-barat-dibakar.
https://megapolitan.kompas.com/read/2020/10/08/17452371/massa-rusak-dan-bakar-gedung-kementerian-esdm-di-jalan-mh-thamrin.
Dapatkan update berita pilihan dan breaking news setiap hari dari Kompas.com. Mari bergabung di Grup Telegram "Kompas.com News Update", caranya klik link https://t.me/kompascomupdate, kemudian join. Anda harus install aplikasi Telegram terlebih dulu di ponsel.