JAKARTA, KOMPAS.com - The Indonesian Parliament has passed the government's jobs creation omnibus bill into law, after lawmakers ratified the legislation during a session on the evening of Monday, October 5, despite objections from labor unions and opposition parties.
House of Representatives Deputy Chairman Azis Syamsuddin passed the bill into law after the majority of parties in President Joko Widodo's coalition, such as the Indonesian Democratic Party of Struggle (PDI-P), and the Golkar and Gerindra parties, voted for the measure.
"The Jobs Creation Omnibus Bill is beneficial to the government and the public alike, as it will make the bureaucracy more effective, further jobs creation, and stimulate investment," said Coordinating Minister for Economic Affairs Airlangga Hartarto.
"We hope [the bill will] do this by streamlining and synchronizing [the bureaucracy] and reducing [government] red tape."
Also read: Indonesia Introduces Leading Projects in West Java to Foreign Investors
But not everyone was convinced, as the opposition Social Justice Party (PKS) and Democrat Parties voted against the bill.
"[The government] was too hasty [in ratifying the jobs creation bill]," said Democrat Party legislator Marwan Cik Hasan. "They have not thought out the articles through." The party further proved its point by staging a walkout from the hearing.
Thousands of laborers from unions and other civil society groups are expected to gather in front of Parliament to protest the ratification of the jobs bill.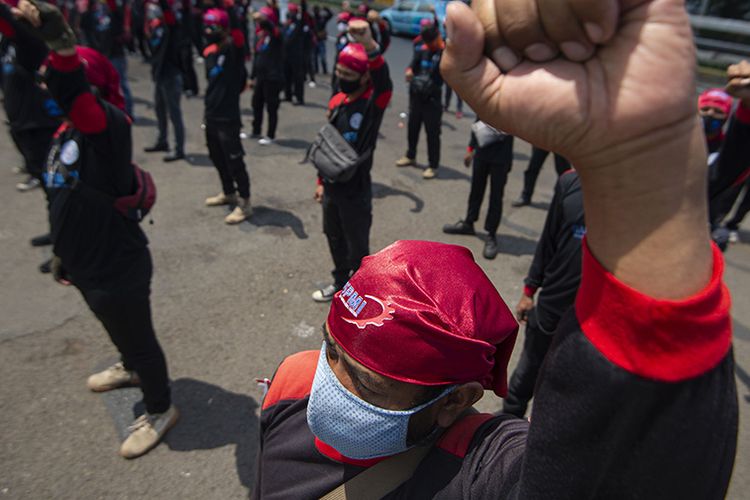 Labor protesters speak out against the controversial Jobs Creation Omnibus Bill in from the Parliament Complex in Jakarta, 30/9/2020
Also read: Recession-Hit Singapore Dominates Q2 FDI in Indonesia: BKPM
"We will call a strike and protest over the next three days," said Suparno, the head of the Federated Union of Indonesian Metal Workers (FSPMI), one of the labor groups speaking out against the new legislation.
The bill, which was sponsored by business owners, is controversial because a number of its articles allegedly call for cuts in severance pay, phase-out of special leaves such as maternity leave or weddings, and longer work week from five to six days.
(Writers: Tsarina Maharani, Haryanti Puspa Sari, Cynthia Lova, Dian Erika Nugraheny |
Editors: Kristian Erdianto, Ambaranie Nadia Kemala Movanita, Icha Rastika)
Sources:
https://nasional.kompas.com/read/2020/10/05/18002101/dpr-sahkan-omnibus-law-undang-undang-cipta-kerja#utm_source=www.kompas.com&utm_medium=kgbreakingnews.
https://nasional.kompas.com/read/2020/10/05/17534521/fraksi-demokrat-walk-out-dari-rapat-paripurna-pengesahan-ruu-cipta-kerja.
https://megapolitan.kompas.com/read/2020/10/05/08560641/tolak-ruu-cipta-kerja-5000-buruh-di-bekasi-demo-ke-dpr-ri-hari-ini?page=all#page2.
https://nasional.kompas.com/read/2020/10/05/14023131/organisasi-mahasiswa-pemuda-dan-pelajar-dukung-aksi-mogok-nasional-tolak-ruu?page=all#page2.
Dapatkan update berita pilihan dan breaking news setiap hari dari Kompas.com. Mari bergabung di Grup Telegram "Kompas.com News Update", caranya klik link https://t.me/kompascomupdate, kemudian join. Anda harus install aplikasi Telegram terlebih dulu di ponsel.