YOGYAKARTA, KOMPAS.com – An Indonesian police personnel who had done volunteer work to mitigate the Covid-19 pandemic in Yogyakarta, Central Java died on September 20 after contracting the coronavirus.
About four months ago, First Adjutant Inspector (Aiptu) Sri Mulyono joined other volunteers from the Yogyakarta Police and Yogyakarta Disaster Mitigation Agency (BPBD Yogyakarta) to conduct burial of the deceased with suspected or confirmed Covid-19.
Sri Mulyono, or often called Pak Mul, was known for his eagerness to share his knowledge and expertise with other volunteers.
Pristiawan Buntoro, head of the Rapid Response Team (TRC) of the BPBD in Yogyakarta, said Mulyono joined the team at the time the first coronavirus infections were recorded in Yogyakarta March 23 to June 30.
Also read: Indonesian Government Urged to Intensify Mass Testing for Covid-19
"He joined Aman Nusa Progo task force, which is conducted by the Yogyakarta Police. He was one of the members of the KBR [chemistry-biology-radioactive] Team from the Indonesian Police Mobile Brigade," said Pristiawan.
He said that Mul often shared his knowledge about matters related to chemistry, biology, and radiation. "This included [the development of] decontamination chamber which came from his contribution," he said.
"But, on June 30 there had been changes in the Aman Nusa Progo Task Force. Mul then was transferred [to another unit]," he added.
Pristiawan, however, confirmed that Mul did not contract the coronavirus while he was volunteering with the TRC.
Also read: Indonesian President Jokowi Urges Equal Access to Covid-19 Vaccine in UN Address
"He had been busy with his new assignments since June 30. But, he certainly was not infected when doing volunteer work at the TRC post."
"He was a very kind person who liked to share his expertise with us," he said.
Sharing a similar sentiment, Indonesian Mobile Brigade Police head to Yogyakarta Police Commissioner (Kombes) Imam Suhadi said that Mul was a person of integrity and was tirelessly carrying out humanitarian activities.
"When he was on duty spraying disinfectant, people often offered him some money, but he refused to receive it," Imam said.
"His dedication to the police corps was extraordinary. He prioritized the community service but sometimes neglected his health," he added.
Imam confirmed that Mul has died from the coronavirus. His wife and child have also tested positive for Covid-19.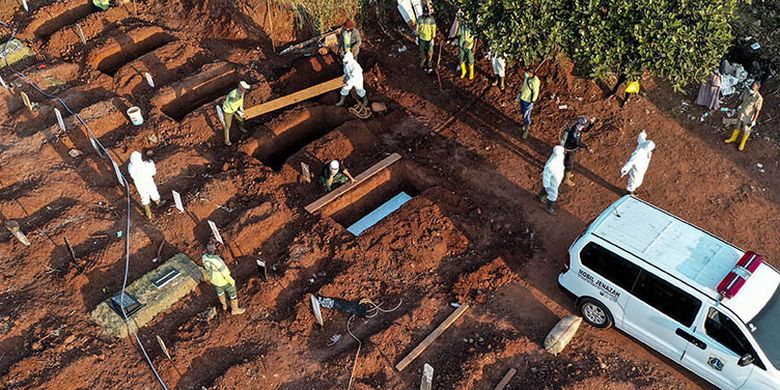 A file photo of the Covid-19 burial protocols in Indonesia.