JAKARTA, KOMPAS.com – Jakarta Governor Anies Baswedan insisted on seeing the silver lining in the cloud during the Covid-19 crisis after 883 new cases were recorded over a 24-hour period to July 30.
"The surging number of cases is actually due to the Jakarta Provincial Administration's increasingly vigorous efforts in contact tracing, PCR, and other methods, to find new cases," the Gerindra Party stalwart said in a Zoom webinar on July 29.
He admitted that the figures, which are higher than the average of 400 new cases, particularly during the ongoing transition large-scale social distancing before Jakarta and the rest of Indonesia enters the New Normal phase.
Also read: Return to Stricter Social Distancing Looms Large in Jakarta as Covid-19 Rages On
"We have actively sought out and isolated people stricken [by Covid-19], and in doing so has broken the chain of infection. If the [public] only wants to see reduced numbers of cases, then we should reduce testing efforts," Anies said.
"I urge the public not to panic on seeing [the increasing] figures. Instead, they should be grateful that we are doing our utmost [to find Covid-19 cases]."
Anies called on the public to remove the stigma associated with the higher number of cases. "I frequently pointed out that our focus has always been on reducing the spread of Covid-19, not the number of cases," he said.
"We are in the middle of a pandemic, and so are other countries around the world. The choice we face is whether we want to find [more Covid-19 cases] or not."
Also read: Jakarta Authorities Warn of Potential Covid-19 Clusters inWorkplaces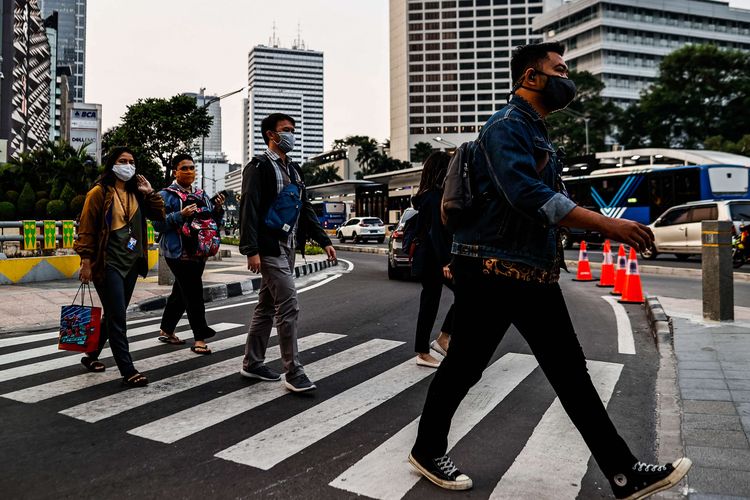 Office workers and other commuters make their way through Jalan Thamrin, one of Jakartas main thoroughfares
But Jakarta Health Services chief Widiastuti is not so upbeat. "Our data showed that Covid-19 particularly hit hard persons between the ages of 20 and 49, which is the most productive age group."