JAKARTA, KOMPAS.com – Indonesian Defense Minister Prabowo Subianto has drawn flak for his plan to purchase 15 Eurofighter Typhoon multipurpose fighter aircraft from Austria. Kompas.com first disclosed the plan on Tuesday, July 22.
House Commission I on Defense, Foreign Affairs and Information chairperson Meutya Hafid said the plan took her by surprise.
"Prabowo has not discussed the purchase with us," said the former TV anchor. "I only heard [about plans to purchase the Typhoon] from media reports."
She added that Commission I has yet to discuss the purchase as they are still discussing Covid-19 and its effect on the 2021 budget.
Also read: US State Department Okays Sale of 8 MV-22 Osprey Aircraft to Indonesia
"I urge Prabowo to consider the purchase carefully instead of hastily going through with it," she said.
"Although there are no specific laws or other regulations on purchasing military equipment, the government should prioritize technology transfer, especially in buying spare parts. After all, we still have fighters like the Sukhoi [Su-27 and Su-30] as well as F16s."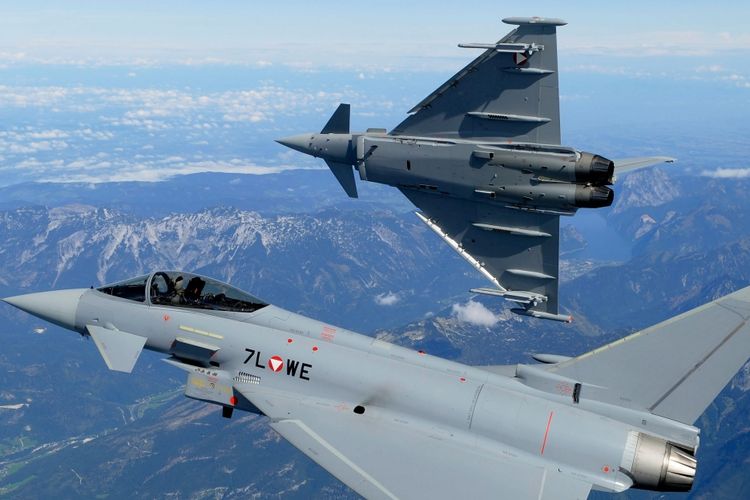 Two Austrian Air Force Typhoons over the Alps
Human rights watchdog Imparsial is more scathing about the purchase of Eurofighter Typhoons.
"We call on Defense Minister Prabowo Subianto to cancel the purchase of the Eurofighter Typhoons from the Austrian Air Force because of their dubious safety record," said Imparsial Director Al Araf in a written statement to Kompas.com.
"Carrying out the purchase would put Indonesian servicemen at risk and repeat a past mistake, namely the lack of accountability in the defense budget. The purchase of the Typhoons are also at risk of misuse because of a lack of standardized prices."