JAKARTA, KOMPAS.com – Indonesia's Covid-19 Task Force has warned of further dire consequences for the country's children if the government failed to contain the pandemic.
"The Indonesian Pediatric Society [IDAI] warned that babies and small children are vulnerable to a double outbreak. This is an outbreak of another disease in the wake of the Covid-19 pandemic," said Covid-19 Task Force spokesperson Reisa Broto Asmoro on Tuesday, June 30.
"The finding is also based on a joint survey between the Indonesian Ministry of Health and UNICEF Indonesia, which found that immunization rates declined due to the Covid-19 pandemic."
The survey found that the coronavirus pandemic hampered nearly 84 percent of immunization for children throughout Indonesia.
Hampering life as we know it
Reisa admitted that the coronavirus still hampered normal life. "As long as a vaccine for Covid-19 has not been found, normal activities for billions of people will remain crippled," she noted.
"We have to make the most of means to boost our immune systems that have been created by scientists and epidemiologists. Comprehensively immunizing our children is as vital as ever, even in the middle of this pandemic."
Abiding by health protocols
As with other aspects of life, Reisa said that application of the vaccines have to abide by health protocols.
"For starters, basic immunization procedures and those that follow it up have to be delivered on schedule.
"This is done to protect children from illnesses that can be prevented by vaccines, such as polio, smallpox or chickenpox," she added.
"Second, immunization at public health centers and other health facilities have to abide by the policies of provincial administrations.
"Third, immunization for illnesses, including their reports, must be optimized. And fourth, health protocols must be obeyed, including standing 1.5 meters from one another."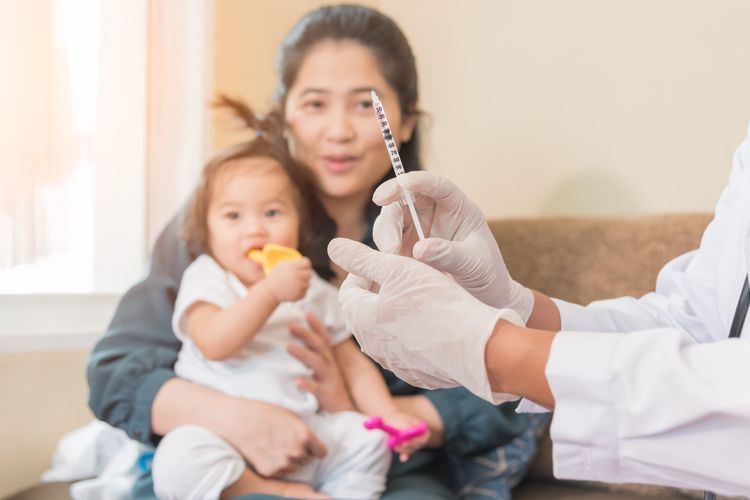 Immunizing children
A surging death toll
Meanwhile, Indonesia recorded a new single day death toll, with 71 dead from Covid-19.
"This has increased the death rate to 2,876 people," said Covid-19 Task Force spokesperson Achmad Yurianto. The number of dead over a single day exceeded the previous record of 64 on June 15.
"The number of [Covid-19] cases also increased by 1,293 people to stand at 56,385 cases. East Java noted the most new cases with 331, followed by DKI Jakarta with 190."
On the upside, Achmad noted that the number of recoveries from Covid-19 currently stands at 24,806. Indonesia's 56,385 cases are the most in ASEAN, surpassing Singapore's 43,907 cases.
(Writers: Dian Erika Nugraheny, Achmad Nasrudin Yahya, Fitria Chusna Farisa | Editors: Diamanty Meiliana, Bayu Galih)
Sources:
https://nasional.kompas.com/read/2020/06/30/18160031/ada-potensi-wabah-ganda-di-tengah-pandemi-covid-19-gugus-tugas-imbau.
https://nasional.kompas.com/read/2020/06/09/06000061/layanan-imunisasi-anak-turun-ini-saran-kemenkes-untuk-orangtua-dan-tenaga?page=all#page2.
https://nasional.kompas.com/read/2020/06/30/15422531/update-total-ada-56385-kasus-covid-19-di-indonesia-bertambah-1293?page=all#page2.
Dapatkan update berita pilihan dan breaking news setiap hari dari Kompas.com. Mari bergabung di Grup Telegram "Kompas.com News Update", caranya klik link https://t.me/kompascomupdate, kemudian join. Anda harus install aplikasi Telegram terlebih dulu di ponsel.