JAKARTA, KOMPAS.com - British celebrity chef Gordon Ramsay is renowned for his hands-on approach to cooking and life's challenges.
He practiced what he preached as he set out try his hand at pacu jawi, the traditional bull race of the Tanah Datar district in the Indonesian province of West Sumatra.
But the Scotsman realized he will have his hands full after seeing what pacu jawi entails – namely controlling the bulls by holding their tails while standing on a bamboo plough as they race through a muddy track.
"Oh my God are you crazy?! This is insane!," Ramsay exclaimed on seeing the bovines surge through the mud. But this does not stop him from giving the messy race a try.
Ramsay gave the race a go three times, first to the hoots and laughter of the audience, then earning their grudging respect for his determination. The multiple Michelin star winning chef emerged sore and mud-spattered, but with his head held high.
All in a day's work
The pacu jawi is part of "Sumatra's Stunning Highlands", the latest episode of Gordon Ramsay: Uncharted, which aired on National Geographic.
Also read: Tourism Ministry Plans to Reopen Indonesia's Nature Attractions due to Low Covid-19 Risk
Premiering on Monday night, June 29, the episode has the globetrotting 53-year-old take on West Sumatra's traditions, and sample foods ranging from bika to dadiah buffalo yogurt.
As with the series' other episodes or his previous shows such as Hell's Kitchen and Hotel Hell, Ramsay spiced up his adventures with his helping of dry wit, astute observations and profanity.
"I knew I'd be put to work. But I didn't know I'd be auditioning for the Cirque du Soleil," he muttered as he balanced himself on a rickety fishing boat to catch bonito, before falling into the sea. Ramsay also tried his hand at trawling for giant freshwater prawns in a cave.
Yet his adventures merely lead off to his biggest challenge yet – a cookoff of rendang beef stew and other dishes against Indonesian culinary maestro William Wongso, with West Sumatra governor Irwan Prayitno as the judge.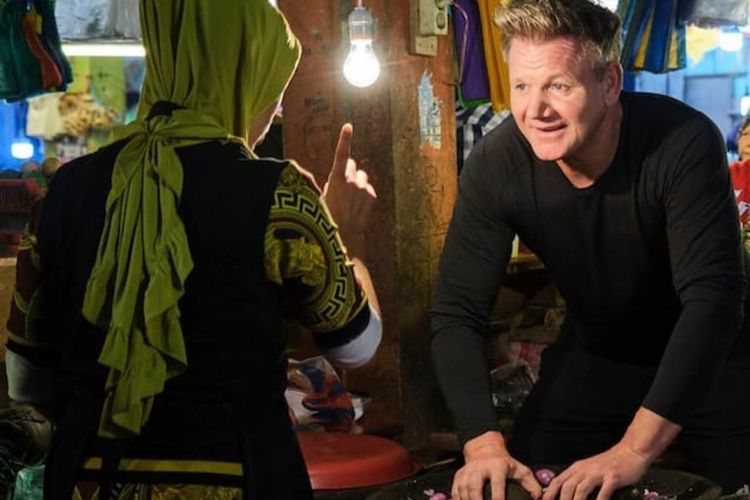 Gordon Ramsay learning to make rendang in a West Sumatra market
A pre Covid-19 idyll
Viewers might note that the episode featured no face masks or physical distancing.
"['Sumatra's Stunning Highlands'] was shot January 19-22 this year," said William Wongso.