YOGYAKARTA, KOMPAS.com – Indonesia's most active active volcano, Mount Merapi, has blown its top once again on Sunday, June 21. The eruption caused a stir, not least on social media.
Caught on camera
The Tribunnews news website said the eruption has gone viral on Twitter. A 26-second video from the account @merapi-news has made the rounds of social media. The video showed locals converging to watch Mount Merapi spew a column of ash and smoke.
Also read: Rising Waters on Ijen Crater Kills Sulphur Miner
Another account under the name @VolcanoYTz uploaded an eight-second video of the eruption.
Confirming the eruption
The Yogyakarta Geological Disaster Technology Research and Development Center (BPPTKG) confirmed the eruptions. "Gunung Merapi's first eruption occurred at 9:13 am. It sent a column of ash and smoke rising up to 6 thousand meters," said BPPTKG official Lasiman.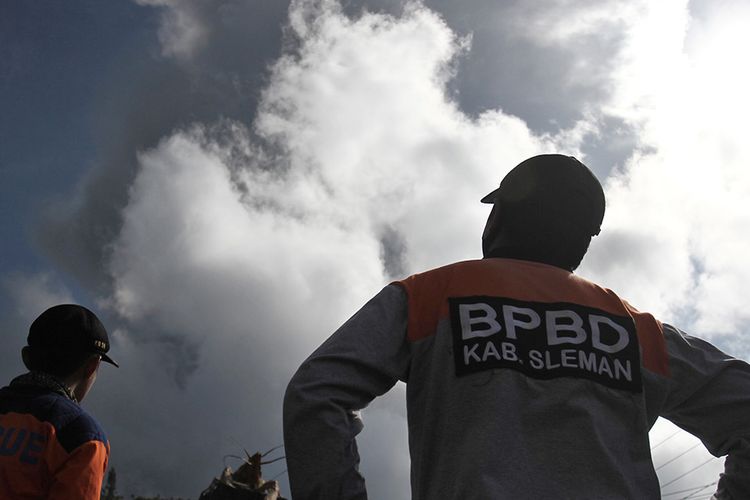 Lookouts manning the Merapi observation post in Kaliurang, Yogyakarta observe the volcanos eruption on Sunday (21/6/2020).
"It lasted 328 seconds, and was noted on the seismogram with a 75 millimeter amplitude." The BPPTKG confirmed the second eruption, which lasted 100 seconds. They did not confirm the scale of the ash and smoke spewed upwards in the second eruption.
Also read: Air Pollution in Jakarta Worsens during New Normal Transition
The BBPTKG issued warnings to the residents living on Merapi's slopes. "We have maintained the alert on Mount Merapi to be at Level II or 'Caution'. We also urge the public to stay clear of areas within a three-kilometer radius of Merapi's peak."