JAKARTA, KOMPAS.com - A partially independent team will investigate the failings that led to the deaths of 125 people, including dozens of children, at a soccer match in Indonesia over the weekend, a government minister said on Monday, Oct. 3.
The fact-finding team will be made up of government officials, football association officials, experts, academics, and journalists.
"The team is expected to finish its work in two or three weeks," Coordinating Political, Legal and Security Affairs Minister Mahfud MD said.
The tragedy on Saturday night in the city of Malang saw a total of 125 people killed and 323 others injured after officers fired tear gas in a packed stadium to quell a pitch invasion, triggering a stampede.
Also read: At Least 129 People Dead after Riot at Indonesia Football Match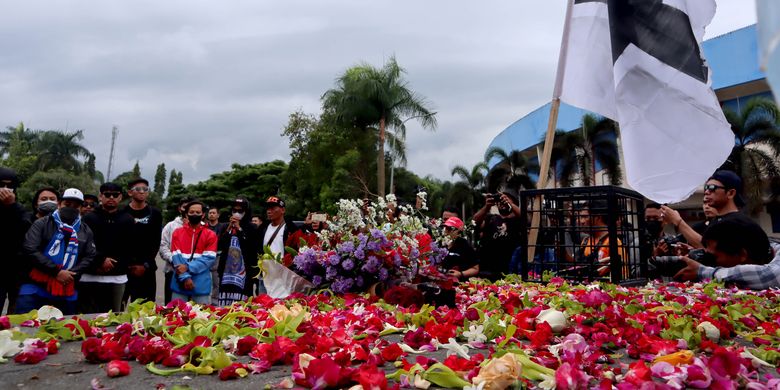 At the Monument Singo Tegar, supporters of Arema FC lay flowers and pray for the victims of one of the deadliest disasters in football history following the deaths of 125 people, including dozens of children, and 323 others injured at a soccer match on Saturday night, October 1, 2022 in the Indonesian city of Malang.
Police will also conduct a separate investigation looking into the people believed to be responsible for one of the deadliest disasters in football history.
Indonesian President Joko Widodo has ordered compensation for the families of the 125 victims who died in the tragedy.
"As a sign of condolences, the president will donate 50 million rupiahs ($3,200) for each victim who died," Mahfud MD told a press conference, adding the money would be given in one or two days.
At least 32 children died in Indonesia's stadium disaster, an official at the women's empowerment and child protection ministry told AFP on Monday.
"From the latest data we received, out of 125 people who died in the accident, 32 of them were children, with the youngest being a toddler age three or four," said Nahar, who like many Indonesians only goes by one name.