JAKARTA, KOMPAS.com – Indonesia aims to vaccinate 32.6 million children who tested positive for Covid-19, as the most widespread Delta variant is known to transmit to children.
Indonesia is set to receive two million doses of the Covid-19 vaccine from Japan, as the country is set to step up its vaccination drive.
And Chinese workers heading to a clinic in a town in Banten province to get their Covid-19 shots was denied access to their accounts. This and more on Indonesia highlights.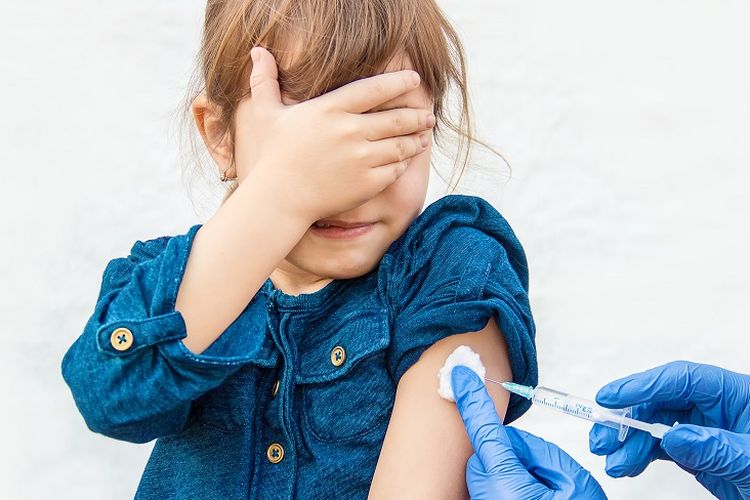 Vaccinating children against Covid-19
Indonesia to Start Vaccinating Children With the Covid-19 Vaccine
The Indonesian government is aiming to vaccinate at least 32.6 million children against Covid-19, after the Food and Drug Agency or BPOM issued the Emergency Use Authorization (EUA) to vaccinate children.
According to the www.Indonesia.go.id information website, "BPOM issued the EUA to use the Sinovac Covid-19 vaccine on children between the ages of 12 to 17. However, the government has yet to set a date for the mass vaccination.
The recommended dosage [for the vaccination is 600 SU/0.5 mL. The immunogenicity for the vaccine is higher, and therefore better, than the lower dosage of 300 SU/0.5 mL."
BPOM also observed that "clinical phase I and phase II tests of the AE systemic profile showed that 12-17 year olds are likely to have fevers following the vaccination, compared to 3-5 year old or 6 to 11 year old age brackets."
The Covid-19 Task Force's statistics disclosed that 12.6 percent of Indonesian children, or over 250 thousand juveniles, make up the country's more than two million Covid-19 cases.
671 of them died after testing positive for the coronavirus, particularly its Delta variant, which is known to strike children.
Source:
https://go.kompas.com/read/2021/06/30/040943274/indonesia-to-start-vaccinating-children-with-the-covid-19-vaccine?page=all#page2.
Indonesian Minister of Foreign Affairs Retno Marsudi
Indonesia to Receive 2 Million Covid-19 Vaccines From Japan in July
Indonesia is set to receive more vaccines for the country's Covid-19 vaccination drive, as Japan pledged to send two million doses vaccines next July.
"We can expect to receive one million doses of the Covid-19 vaccine on Thursday, July 1," said Indonesian Minister of Foreign Affairs Retno Marsudi. "The remaining one million tons will be sent to Indonesia in the middle of July," she asserted.
Retno added that her talks with Japanese Minister of Foreign Affairs Toshimitsu Motegi touched on cooperation in the field of therapeutic medicines.
Retno added that she touched on the Covid-19 vaccines with her British counterpart Dominic Raab. "[Raab] has conveyed the British government's plan to send batches of Covid-19 vaccines to Indonesia," she announced.
"We also touched on Great Britain's plan to further its ties with ASEAN, as well as the preparations for the Climate Change Conference of the Parties [COP26] that it will host," she noted.
Indonesia and other G20 countries touched on international cooperation against Covid-19 and global recovery from the pandemic. They also touched on improving multilateral cooperation as well as aid for Africa, as the continent is hard-hit by Covid-19.
Source:
https://go.kompas.com/read/2021/06/30/012830274/indonesia-to-receive-2-million-covid-19-vaccines-from-japan-in-july?page=all#page2.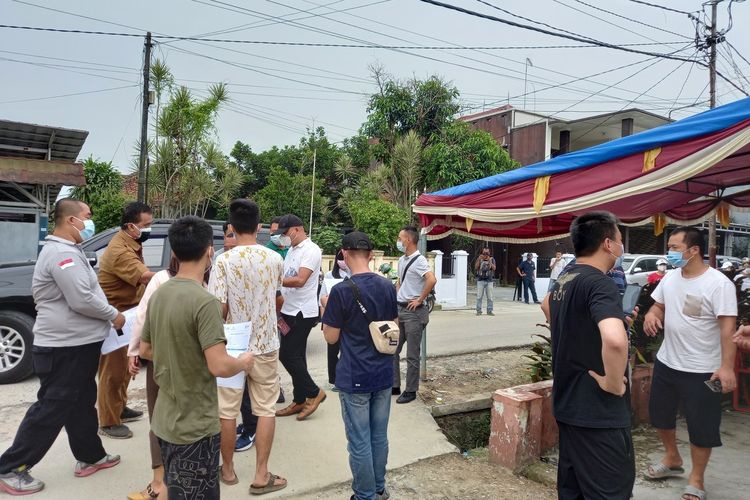 Some foreign workers from China visit the Lebak Police Clinic in Rangkasbitung on Monday (28/6/2021).
Chinese Workers Denied Access to Covid-19 Vaccines in Indonesia
A number of Chinese workers who came to get Covid-19 vaccinations in the town of Rangkasbitung, Banten province, were rejected after they failed to show a national identity card issued in Indonesia.
Under Indonesian law, it is compulsory for all foreigners aged 17 and above to have an electronic national identity card (KTP) if they are issued with temporary residence permits.
Kompas.com reported that dozens of Chinese workers, gathered at the Lebak Police Clinic premises to get vaccinated.
Accompanied by an interpreter, they said that they came to the clinic to get Covid-19 jabs. The clinic staff then explained that they could not get the vaccine as they are required to show the KTP, not their passports.
However, they were determined to come because they were told that it is only the aforementioned clinic could provide vaccines for foreign workers.
A spokesperson for the Lebak Covid-19 Task Force Dr. Firman Rahmatullah said everyone is required to show a KTP before they get vaccinated.. "If you don't have KTP, your citizenship identification numbers [NIK] cannot be recorded [into the system]," Dr. Firman said.
Source:
https://go.kompas.com/read/2021/06/29/213002274/chinese-workers-denied-access-to-covid-19-vaccines-in-indonesia?page=all#page2.
Dapatkan update berita pilihan dan breaking news setiap hari dari Kompas.com. Mari bergabung di Grup Telegram "Kompas.com News Update", caranya klik link https://t.me/kompascomupdate, kemudian join. Anda harus install aplikasi Telegram terlebih dulu di ponsel.