BLITAR, KOMPAS.com - Adherents of Indonesia's six recognized religions have converged on the tomb of Indonesian founding father and first President Soekarno in Blitar, East Java on Sunday to mark the 51st anniversary of his death on June 20, 1970.
The Buddhist, Catholic, Christian, Confucian, Hindu and Muslim clerics then led their respective congregations in an interfaith prayer and religious pilgrimage, which is also known by the Indonesian term Haul, for the man who is also known by his nickname Bung Karno.
"The prayers are the traditional way of starting off Bung Karno's annual Haul," said Tri Imam Prasetyono, the head of Blitar's Tourism and Culture Services.
Also read: Monument to Indonesia's Founding Father Soekarno Unveiled in Algeria
"This interfaith act is inseparable from Soekarno's role as the founder of the nation's values and ideology, and his upholding of religious tolerance as a central tenet."
Tri added that Bung Karno's notion of tolerance extends beyond one's faith. "Soekarno also upheld cultural pluralism. He is aware that tolerance and respect of religious beliefs as well as cultural diversity are key in maintaining national unity and social cohesiveness," he said.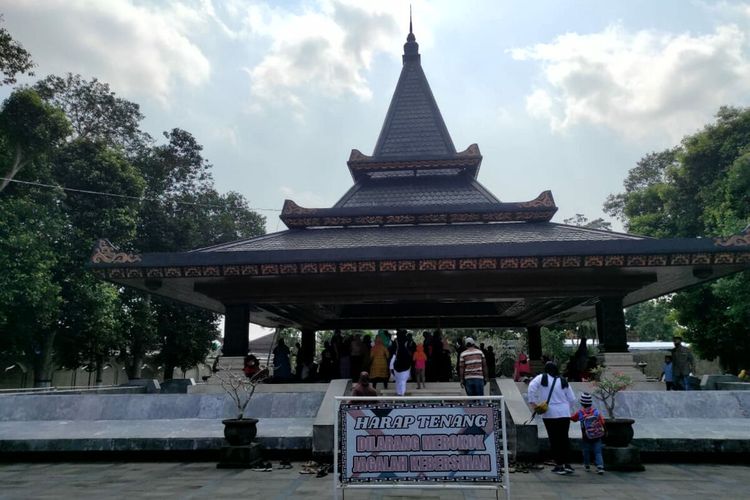 Soekarno's Tomb in Blitar, East Java, Sunday (20/6/2021).
The celebrants started the festivities by reading verses from the Al-Qur'an at 5 am. They would then hold prayers at the gate of Bung Karno's Tomb from 9 am to 1 pm.
"The pilgrims then continued in the afternoon at Gebang Palace, the home of Bung Karno's extended family, on Jalan Sultan Agung," he added. "The peak of the Haul will be held at the Kusumo Wicitro City Hall Building, Blitar.
Also read: Indonesia's Ruling Party Urges Police to Probe Burning of Flag
Tri noted that the Covid-19 pandemic forced a number of changes. "Each prayer session was limited to no more than 15 pilgrims at any on time. They must also comply with health protocols like wearing masks, washing hands and maintaining social distancing," he asserted.