JAKARTA, KOMPAS.com – Customers weary from months of Covid-19 health protocols converged on Tanah Abang, Jakarta's biggest traditional market last weekend to buy gifts and other goods for the Eid-al Fitr or Idul Fitri holidays, which is over a week away.
The sight is more reminiscent to a time before the Covid-19 outbreak, as an estimated to 200 thousand or more shoppers disregarded health protocols such as social distancing or wearing face masks looked for apparel and other items.
The peak of this Indonesian version of the Black Friday shopping event occurred last Sunday, as over 100 thousand people hit Tanah Abang's Blok A and B to shop for their needs.
This number, along with about 85 thousand shoppers who came to Tanah Abang the day before, is nearly three times the average of 35 thousand people who go there on any given day following the Covid-19 pandemic.
Also read: Visitors Flock Southeast Asia's Biggest Textile Center in Jakarta Despite Covid-19
"When I came at 10 am, [the Tanah Abang] market was already full. By the afternoon, it was plain chaotic," said Amir, who came to the market on Sunday for his annual ritual of buying new clothes for Idul Fitri.
The 26-year old recalled how he and one of his siblings were cheek by jowl with other shoppers in the corridors of the market's Blok A and Blok B for about four hours.
"We had to jostle with others to browse clothes. Often we had to fight through crowds to go from one kiosk to another," he added.
An early start
Other customers, among them Farizky, still choose Tanah Abang as their outlet of choice, though they opted to go on Monday when it was less bustling.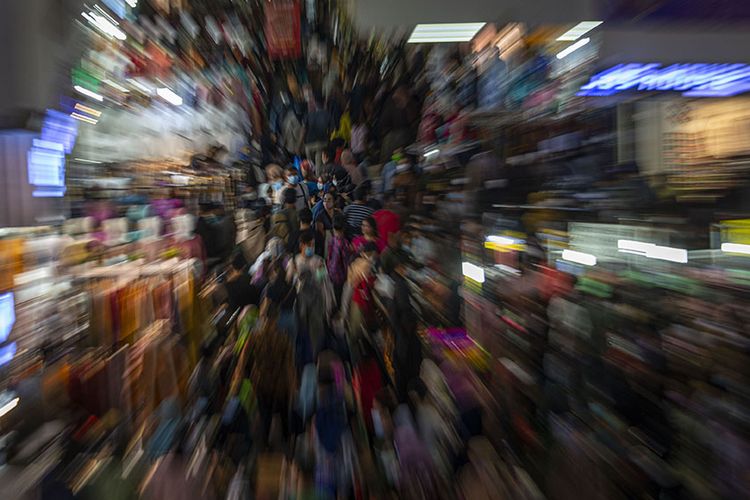 The crush of shoppers at Tanah Abang traditional market's Blok B on Sunday (2/5/2021)