KOMPAS.com - The Borobudur temple near the city of Magelang might be the most iconic major structure in Central Java, as it draws people throughout Indonesia and the rest of the world. But the Buddhist edifice is by no means the only structure in the area.
Looming out from a forest like Borobudur once did prior to its rediscovery by British colonial administrator Sir Thomas Stamford Raffles is a crumbling church on top of a hill.
Shaped like a chicken, the structure looked comical compared to Borobudur's stark grandeur, though the two structures are only 20 minutes apart.
While some locals called the church Gereja Ayam or Chicken Church due to its resemblance to the bird from head to tail, this might be a misnomer, as others noted the building's similarity to a dove. As it turned out, the latter guess is correct.
Inspired by inner spiritual turmoil
The man behind the structure is Daniel Alamsjah, a devout if eccentric Christian. "I built [the Gereja Ayam] after I received a holy vision which inspired me to create a prayer house for all people of all faiths in the form of a dove," he recalled.
"After I did my nightly prayers and slept, I received a vision of a dove with snow-white wings, resting at the top of a hill. A disembodied voice directed me to build the house of worship there." But then reality bites when he awoke, and he dismissed the vision as a hallucination.
Yet the vision never went away, as it coincided with "an inner spiritual struggle as the vision occurred and directed me to build a prayer house on a hill that I never visited," the 77-year old said in an interview with National Geographic Indonesia.
Also read: Belgian Man, His Indonesian Wife Brings Belgian Tastes to Yogyakarta
"I prayed all night to understand the vision, until I got a revelation that I had to build a prayer house there."
In 1989, Daniel and his family visited the Borobudur area and met a young local man named Jito. From Jito, Daniel learned that there was a hill in the hamlet of Gombong which seemed to fit the description of his vision.
"I decided that the hill is the place described in my vision. I then called the area Rhema Hill (Bukit Rhema), which means 'the living Word' for Christians. I decided to build the church there."
The owner of the land sold the hill to Daniel a year later. He then started construction of the church in 1992 on 3 thousand square meters of land that make up Rhema Hill. Unfortunately, construction stopped in 2000 because of the monetary crisis.
A center of faith
As a building, the Gereja Ayam might be as incomplete as the Sagrada Familia church in Barcelona, Spain. But spiritually, it is still complete.
"Some people might think I built a church because I am a Christian," Alamshah said to Nationalgeographic.co.id on October 4, 2018.
"But the Gereja Ayam is really a place of worship for anyone who believe in God — whether they are Buddhists, Hindus, Muslims, Catholics, Christians, and other faiths— to pray in their own way."
Aside from a place of worship, the prayer house was also used as a rehabilitation center for physically disabled children, drug addicts, and people with mental disorders as well as troubled young people.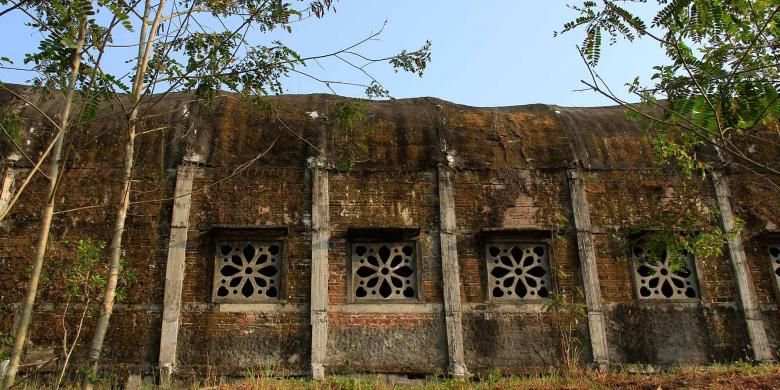 One side of the Chicken Church building in Magelang, Central Java.
Visiting the Gereja Ayam
There are two ways to get to Gereja Ayam. One can drive directly there via the Borobudur Temple National Park, then go down a road Bukit Rhema. The second route is more of an exercise, as one has to trek on the Punthuk Setumbu path in the middle of the forest.
The Gereja Ayam has seven floors, each of which represent humanity's spiritual journey, the meaning of prayer, the mercy of God and local wisdom. Like cathedrals in Europe, these stories are portrayed in interconnected paintings, each of which have a moral.
The first floor symbolizes the individual from their birth who is born pure, but is beginning to learn the ways of the world as they progressed from a crawl to a walk. The universality of the theme makes the place a place of prayer for any religion.
Also read: Dutch Woman in Yogyakarta Serves Hope in A Bowl of Noodles
The second floor symbolizes humanity's increased understanding of the world, where they start to distinguish between good and evil.
The third floor touches on temptation and problems for young people, such as juvenile delinquency, promiscuity, and substance abuse. This part explains Bukit Rhema's standing as a rehab center.
The fourth floor describes Indonesia's diverse arts and cultures. Small wonder Bukit Rhema is also used as a workshop to teach children from orphanages batik, so as to introduce and conserve culture in Indonesia.
The fifth floor tells of a person who have fallen, while the scenery around the hill represents the faith and hope to motivate them to get back on their feet.
The sixth floor portray an open mouth, which meant that while humans are subject to hard times, they are just as liable to feel happiness. The fresh air and scenery of the seventh floor showed that humans should be grateful to be alive.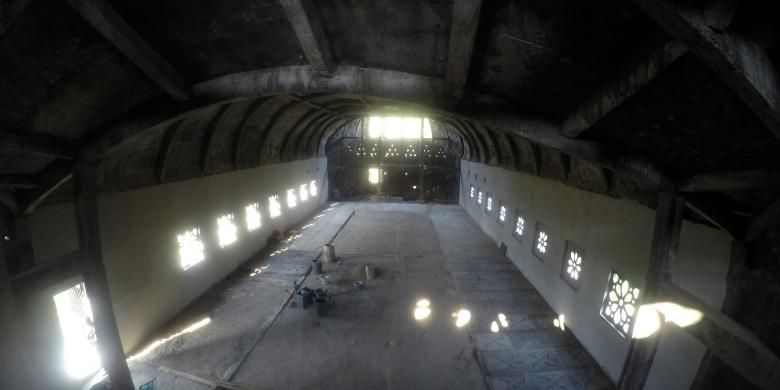 Chicken Church's hall in Magelang, Central Java.
A pop culture icon
Time and the elements seemed indifferent to Alamsjah's devotion and vision, as neglect set in on Gereja Ayam. The building was vacated and left to rot since constructed stopped in 2000, leading to rumors that the place is haunted.
But Gereja Ayam unexpectedly experienced a resurrection after Indonesian filmmakers Mira Lesmana and Riri Riza used it as a location to film Ada Apa Dengan Cinta 2 (What's the Deal With Love 2), which was released to critical and popular acclaim in 2016.
A sequel to the the equally acclaimed 2002 film Ada Apa Dengan Cinta (What's the Deal With Love) starring Indonesian actors Dian Sastrowardoyo and Nicholas Saputra, Gereja Ayam attracted more visitors as word spread of its use as a filming location.
The hype has led to its renovation in 2014. Alamsjah restored and finished parts of the building, installing jeweled tiles, paneled windows, a paved access road and worked on the underground prayer rooms.
Also read: Indonesian Tourism Minister Hails Karangrejo's World-Class Homestays
Displays in the main hall [the body of the chicken] document the project's growth from a divine vision to a real house of worship.
The number of tourists prompted Alamsjah to build a small cafe selling traditional treats inside the chicken's rear. Visitors can also climb up to the top of the bird's head for amazing 360-degree views.
Gereja Ayam continues to be in business during the Covid-19 pandemic, after the Magelang Regency administration reopened the edifice on Friday, July 10, 2020, following its closure for a few months after the coronavirus was detected in Indonesia on March 2, 2020.
Like other sights, strict health protocols are in place for visitors. These include a maximum of four people on the jeeps taking them there, as well as washing one's hands and social distancing inside the building and the dining area.
But these strictures in no way detract from the visit to this spiritual edifice and pop icon.
(Editor: Rachmawati)
Source:
https://yogyakarta.kompas.com/read/2021/04/02/115500278/asal-usul-gereja-ayam-rumah-doa-di-bukit-rhema-dikenal-karena-film-ada
Dapatkan update berita pilihan dan breaking news setiap hari dari Kompas.com. Mari bergabung di Grup Telegram "Kompas.com News Update", caranya klik link https://t.me/kompascomupdate, kemudian join. Anda harus install aplikasi Telegram terlebih dulu di ponsel.