JAKARTA, KOMPAS.com – Indonesian security personnel focused their efforts on the Jakarta satellite city of Bogor, due to the standing of the area's presidential palace as the choice residence for President Joko Widodo and recent attacks in the cities of Makassar and Jakarta this week.
The Jakarta Metropolitan Police removed an item that they suspect was a bomb, near a Protestant church in Melawai, South Jakarta, as security for churches nationwide are beefed up for Good Friday and the rest of the Easter holiday weekend.
And police in the capital nab a gun-toting driver whose moment of road rage made its way on social media and other parts of cyberspace. This and more on Indonesia Highlights: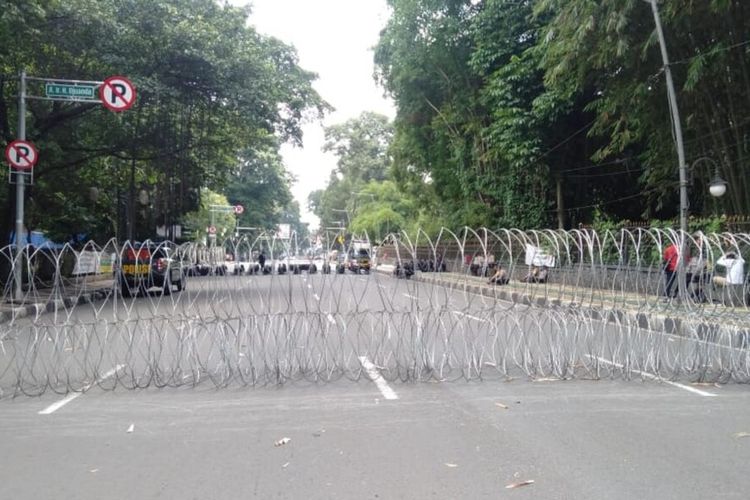 An example of the security safeguards set up at the Bogor Presidential Palace, this time for the visit of Japanese Prime Minister Suga Yoshihide on Tuesday (20/10/2020)
Indonesian Presidential Security Detail Beefs Up Security at the Bogor Presidential Palace
Indonesian security personnel tightened security in the city of Bogor, West Java, due to the standing of the Presidential Palace there as the preferred residence of President Joko 'Jokowi' Widodo, and the spate of attacks in Makassar, South Sulawesi and Jakarta earlier this week.
"We have tightened security, particularly towards the approaches to the Bogor Presidential Palace, police precincts as well as houses of worship [in Bogor]," said Bogor Police Department chief Grand Police Commissioner Susatyo Purnomo Condro.
"We have more reasons to put these measures in place following the [lone wolf] attack on the headquarters of the Indonesian National Police in Jakarta last Wednesday and the suicide bombing at a cathedral in Makassar, South Sulawesi last weekend."
The Presidential Security or Paspampres at the Bogor Presidential Palace beefed up security more than two weeks before, after they and supporting military units detained a man identified as AB for breaking in to the Palace on the evening of March 16.
"[The Paspampres] and one of our men on guard duty detected suspicious movement in a part of the Bogor Botanical Gardens designated for VVIPs," said military spokesman Army Infantry Major Ermansyah on Friday.
"When he went to take a closer look, he found AB trying to jump the fence. He then nabbed AB and transferred him to police custody."