JAKARTA, KOMPAS.com – Indonesia's aim to attain herd immunity by March 2022 has gotten off to a promising start, after the country's Covid-19 Task Force announced that nearly 6 million Indonesians received their vaccinations in the first quarter of 2021.
Minister of Social Affairs Tri Rismaharini has ordered an overhaul of the Ministry's social welfare data, so as to ensure that the government's aid programs reach those who need it most.
And Indonesia is set to go to the next stage in telecommunications, as the country is set to go from 4G to 5G within months, if not years. More on these stories on this edition of Indonesia Highlights: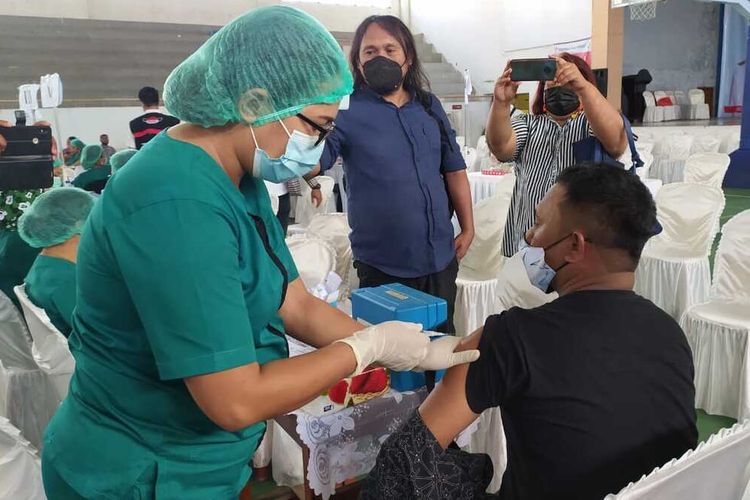 A number of reporters in Ambon, Maluku get their Covid-19 vaccinations at the city's Karang Panjang Sporthall, Wednesday (17/3/2021)
Nearly 6 Million Indonesians Have Received Covid-19 Vaccinations
Indonesia's Covid-19 Task Force has announced that the government's goal to achieve herd immunity against Covid-19 has gotten off to a good start since the policy began on January 13.
The unit noted that 5.7 million Indonesians have received the first dose of the vaccine, while 2.4 million of them already received the second dose, as of March 20, 2021.
Covid-19 Task Force spokesman Professor Wiku Adisasmito hailed the statistics as "a positive development that should be maintained." He called on the public to comply with the Covid-19 vaccination program.
"The government has ensured the availability of a safe, high efficacy, halal vaccine with minimum side effects. But if anyone who was vaccinated are experiencing serious side effects, we urge them to go to the nearest health facility," Wiku added.
"This is needed to ensure the individual's safety and health, and helps in monitoring post-vaccination health issues." Indonesia will carry out four waves of vaccinations through March 2022.
The first wave of vaccinations, which was allocated for health workers, started in January 17 through February 16. The second wave of vaccinations started on February 17, and was allocated for civil servants, military and police, as well as the media, and other segments of society.