JAKARTA, KOMPAS.com – Human rights activists and the family of slain Papuan cleric Yeremia Zanambani continued with their efforts to find the truth behind his death on September 2020, during the conflict between Papuan insurgents and Indonesian security personnel.
The Ministry of Health has warned that the Covid-19 vaccine is not an instant cure for the coronavirus.
And Statistics Indonesia or BPS moaned that Indonesia's current predicament is all Covid-19's fault, as the number of Indonesians living under the poverty line, as well as those who are underemployed or unemployed has increased.
Read on for more of theses stories, as curated by our editors: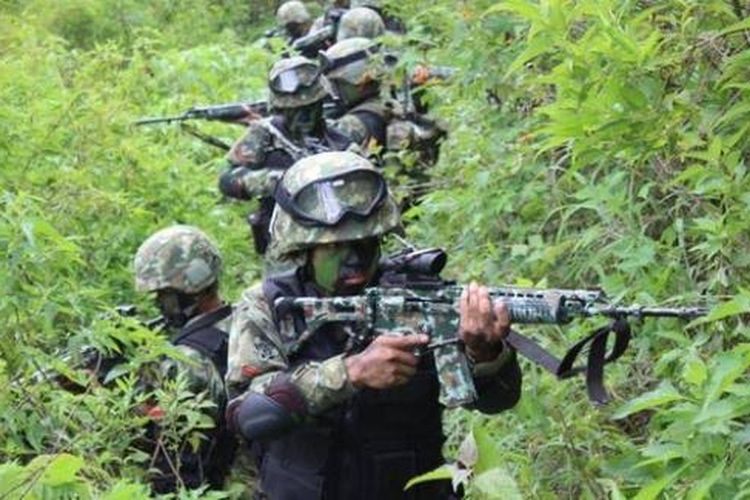 A file photo of Indonesian military (TNI) personnel during a patrol in Sugapa district in Intan Jaya regency, Papua.
Police Watchdog to Monitor Autopsy of Murdered Papuan Priest Yeremia Zanambani
The National Police Commission or Kompolnas has announced that it will scrutinize Papuan priest Yeremia Zanambani's autopsy, months after he was killed during the conflict between Indonesian forces and insurgents in Papua's Intan Jaya regency in September 2020.
"We will monitor [Zanambani's] autopsy closely, along with other independent agencies like Amnesty International Indonesia, the National Commission on Human Rights [Komnas Ham], and the Indonesian Communion of Churches [PGI]," said Kompolnas head Benny Mamoto.
Speaking on Monday, February 15, Benny added that "the autopsy will also be carried out by impartial doctors. The supervision by independent institutions is in line with the conditions laid out by Zanambani's family."
Aside from the NGOs and doctors, Zanambani's family stipulated that his lawyers and independent witnesses observe the autopsy. They also urged the procedure be carried out in his home district of Hitadipa, the location of his death.
An attorney for Zanambani's family, Yohanis Mambasar, confirmed that his widow and two children have authorized the Papuan Regional Police to carry out the autopsy on February 12. Previously, his family refused the procedure on traditional grounds in November 2020.
The Joint Fact Finding Team or TGPF and Komnas HAM] have indicated the complicity of Indonesian military personnel in Zanambani's death. The proof included evidence of torture that is consistent with extrajudicial killings.
Source:
https://nasional.kompas.com/read/2021/02/15/19383021/otopsi-jenazah-pendeta-yeremia-disiapkan-polda-papua-kompolnas-ikut-pantau.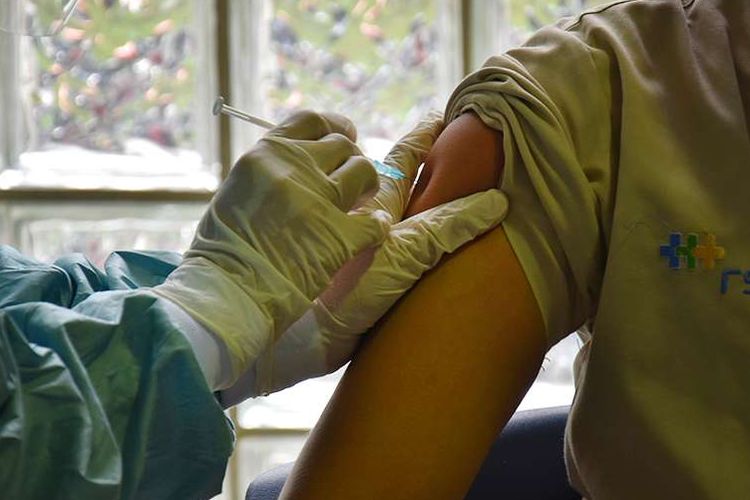 A vaccinator in the city of Bandung, West Java's provincial capital, jabs a health worker in a mass vaccination drive on Wednesday, (3/2/2021)
Indonesian Ministry of Health: Covid-19 Vaccine Not A Coronavirus Cure
The Indonesian Ministry of Health has warned that the Covid-19 vaccine is not an instant cure for the coronavirus as the government has started vaccinations around the country.
"A recipient of a Covid-19 vaccine can still contract the coronavirus. But if they get vaccinated, their body will receive defenses that will keep them from falling ill," said Ministry of Health spokesperson Siti Nadia Tarmizi on Monday, February 15.
Nadia pointed out that the vaccine can build up an individual's antibody gradually. "The first dosage [of the Covid-19] vaccine can build up 60 percent of the recipient's antibody. If they take their second dosage, their antibody [against Covid-19] can increase to 95 percent."
Meanwhile, President Joko ' Jokowi' Widodo has called on the Indonesian armed forces and Indonesian National Police to support the government's mass Covid-19 inoculation drive.
"The armed forces and police are well-placed to enforce health protocols, because their respective command structures reached to village or neighborhood levels," he said.
"Their ability to enforce [the law] in a coordinated manner can also help break the Covid-19 chain of transmission." The government aims to vaccinate about 70 percent of Indonesia's population, or 182 million people, to achieve herd immunity against Covid-19.
Source:
https://go.kompas.com/read/2021/02/16/013116374/indonesian-ministry-of-health-covid-19-vaccine-not-a-coronavirus-cure?page=all#page2.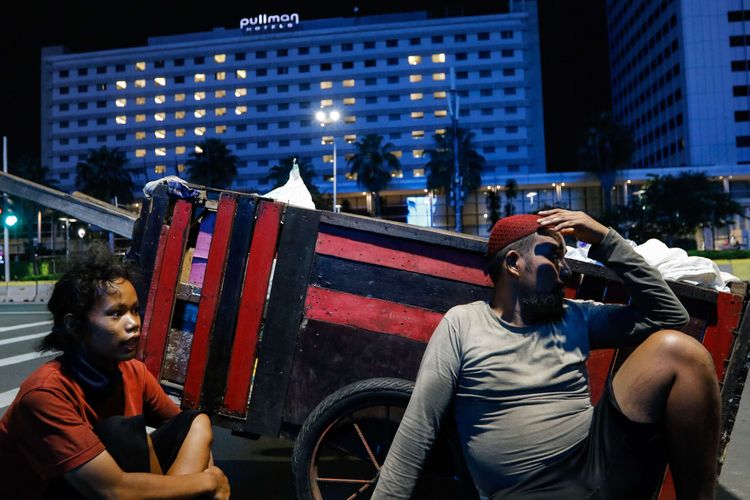 Two junk collectors, Yunita (left) and Ilham Saputra, rest in the middle of their work at the MH Thamrin throroughfare on Monday, (22/4/2020). Statistics Indonesia or the BPS announced that more than 4 million Indonesians are unemployed or underemployed due to the fallout from Covid-19
Number of Indonesians Under the Poverty Line Surges Due to Covid-19
The Statistics Indonesia [BPS] agency announced that the Covid-19 pandemic set back the government's efforts to fight poverty during President Joko Widodo's second term in office.
"The number of Indonesians living below the poverty line in September 2020 has reached 27.55 million people, up from 24.97 million people in September 2019," notes BPS head Suhariyanto on Monday, February 15.
He added that this figure represents 10.19 percent of Indonesia's population. "The primary cause for this rise in people [living below the poverty line] is the decline in income felt by all levels of society," Suhariyanto noted.
"The lower classes felt the pinch more than [the middle and upper classes]. Seven out of 10 respondents from the lower-class said their incomes decreased significantly, compared to three out of 10 among their well-heeled counterparts."
Suhariyanto added that the pandemic adversely affected employment numbers.
"Covid-19 has affected the earnings of 29.12 million Indonesians of working age. 2.56 million people are unemployed for the long term, while 1.77 million were temporarily unemployed," Suhariyanto said.
"The number of unemployed has increased to 7.07 percent in August 2020, up from 5.23 percent during the same period in 2019. 24 million saw their incomes decreased, along with their working hours."
The BPS also noted that the poverty index rose from 1.62 percent in March 2020 to 1.75 percent in September 2020.
Source: https://go.kompas.com/read/2021/02/16/061653674/number-of-indonesians-under-the-poverty-line-surges-due-to-covid-19.
Dapatkan update berita pilihan dan breaking news setiap hari dari Kompas.com. Mari bergabung di Grup Telegram "Kompas.com News Update", caranya klik link https://t.me/kompascomupdate, kemudian join. Anda harus install aplikasi Telegram terlebih dulu di ponsel.