YOGYAKARTA, KOMPAS.com – Hundreds of people living on the slopes of Mount Merapi have started to evacuate their homes as the mountain continued to rumble with volcanic activity, according to authorities in Yogyakarta's Sleman Regency.
"The number of people fleeing to the Glagaharjo temporary displaced persons camps in the Cangkringan subdistrict has reached 263 as of November 20, up from 123 earlier this week," said Suparmono, the head of the Cangkringan subdistrict.
"Their number has risen since the alert level for Mount Merapi went from 'caution' on level 2 to 'beware' on level 3 two weeks ago. Many of them are livestock breeders who already evacuated their cows to Glagaharjo's communal pens."
Also read: Rumbles on Mount Merapi, Indonesia's Most Active Volcano, Causes Mass Evacuation
Suparmono noted that the number of able-bodied adults seeking refuge in the camp nearly doubled from 44 earlier this week.
"Seventy-eight healthy adults have gone down the mountain. On the other hand, the number of vulnerable displaced persons such as the elderly, pregnant women, small children and the disabled hardly changed," he said.
"They also felt traumatized by [Mount Merapi's] eruption in 2010 which killed over 350 people." The camp still has enough room for more displaced persons, Suparmono assured, saying it has a capacity of 300 people.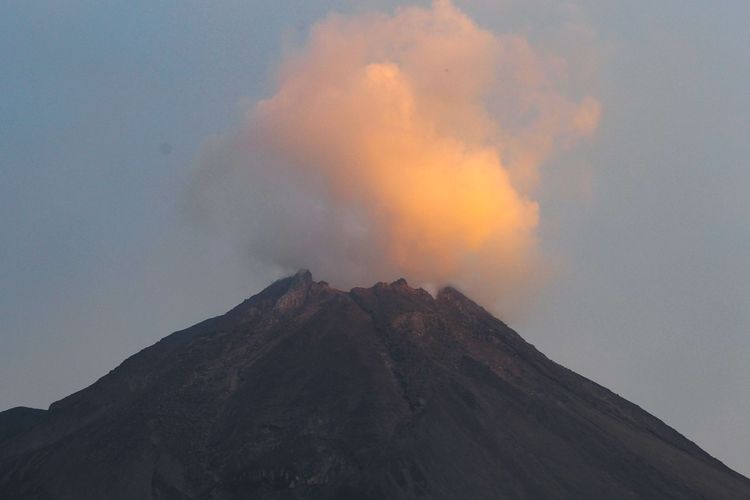 A puff of sulphurous gas comes out from Mount Merapi 905/11/2020)
Meanwhile, rangers on Mount Merapi National Park have yet to observe any anomalies in the animals' behavior which normally precedes an eruption.
"The monkeys living on Mount Merapi's slopes are still behaving normally in their habitat. They have not gone down the mountain like they are instinctively known to do prior to an eruption," said Mount Merapi National Park head Pujiati.
Also read: Starlings Play Key Role in Volcano Warning System for Residents Near Indonesia's Mount Merapi