PANGKAL PINANG, KOMPAS.com – The women in the workshop at the town of Muntok, Bangka-Belitung province, deftly worked the red and gold cloth in the loom. They then wove the thread into exquisite patterns, much like their ancestors before them.
Known as tenun cual or dipped cloth due to the practice of dyeing the threads before weaving them, the textile has put Muntok on the map for hundreds of years.
"[Tenun cual] is long known to be one of [Bangka-Belitung's] leading arts and crafts. They are influenced by the songket brocades of Sumatra and the ikat dyed cloth of Indonesia's East and West Nusa Tenggara provinces," said historian Akhmad Elvian to Kompas.com.
"They are made by women artisans in Muntok who are renowned for their skill in weaving scarves, dresses and other apparel from silk and gold cloth. What distinguishes them from other Indonesian textiles are the motifs, which are made with a technique similar to ikat."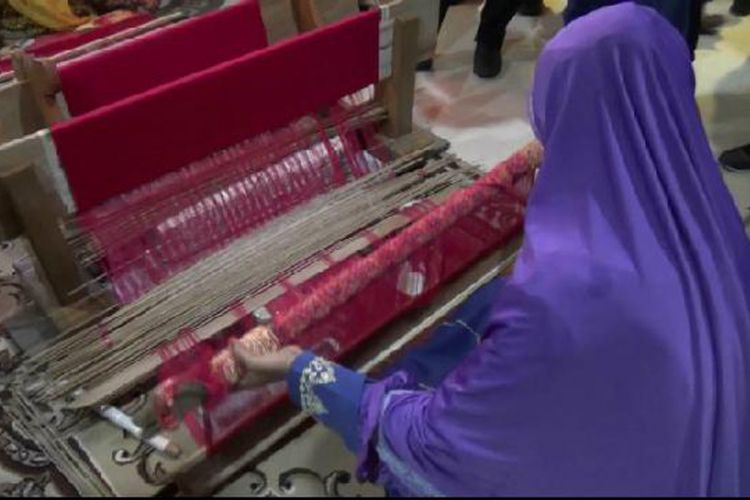 A tenun cual artisan makes the cloth at the Cual Ishadi Museum in Pangkal Pinang, Bangka Belitung Province
Also read: How Indonesian Batik Became a UNESCO Intangible World Heritage
As with other Indonesian traditional like Javanese batik, ulos from North Sumatra or ikat, tenun cual's beginnings were not determined by merchants but by Bangka's noble class, who were known as Abang and Yang.
Elvian said tenun cual was primarily worn by the Abang and Yang for ceremonial occasions since their invention in the 18th century. He added that they have multiple uses, such as home decorations or showing the owner's status, as well as mystical or even medicinal purposes.
"According to traditional accounts, a [Yang] of Chinese descent named Ence' Wan Abdul Hayat [Lim Tau Kian] invented tenun cual in the 18th century. That is why Chinese motifs such as fighting dragons, phoenixes and lotus flowers predominated the earliest kain cual," noted Elvian.
"Since then, they derived their inspiration from Bangka's flora and fauna, which were depicted in a more abstract manner than other cloths. This is due to the island's Muslim majority and the Islamic taboo against depicting living organism."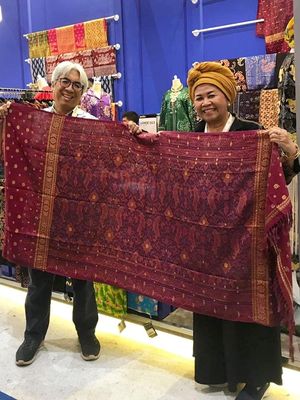 Tenun cual cloth at an exhibition
Also read: National Batik Day: Making Indonesia's Art Form Relevant Even in the Time of Coronavirus
But Elvian maintained that the abstraction of the motifs does not detract from their symbolic and philosophical meaning. "[Tenun cual] is imbued with their creator's view of life, religious beliefs and cultural upbringing," he said.
"The depth of their wisdom is reflected in the fineness of the cloth, the intricateness of the motifs, and their color."
Elvian added that the expansion of the Dutch to Muntok and the rest of Bangka Belitung in 1851 helped introduce tenun cual to the wider world.
"The Dutch introduced tenun cual to the Netherlands, the United Kingdom and the rest of Europe," said Isnani, a tenun cual weaver and founder of the Ishadi Tenun Cual Museum in Pangkal Pinang.
"They proved to be popular souvenirs [from Bangka-Belitung] because of their durability and gentle texture."
"The market for tenun cual slumped during World War I, but bounced back after the conflict ended in 1918. Tenun cual might originally be made for the nobility and clergy, but they were made for the wider public," Isnani said.
However, she added that tenun cual managed to resist commercialization. "Tenun cual is still made the same way for hundreds of years, namely on a wooden loom."
"This method also ensures that this craft is made by a select few artisans. This factor, along with the use of high-quality materials and the long, complicated manufacturing process, helped to maintain its high value."
(Writer: Heru Dahnur, Pangkalpinang Contributor | Editor: Abba Gabrillin)
Source:
https://regional.kompas.com/read/2020/11/02/09153231/makna-tersembunyi-di-balik-tenun-cual-kekayaan-tradisi-sejak-zaman-belanda?page=all#page2.
https://regional.kompas.com/read/2020/10/29/09395571/kisah-tenun-cual-khas-bangka-meredup-karena-perang-dunia?page=all#page2.
Dapatkan update berita pilihan dan breaking news setiap hari dari Kompas.com. Mari bergabung di Grup Telegram "Kompas.com News Update", caranya klik link https://t.me/kompascomupdate, kemudian join. Anda harus install aplikasi Telegram terlebih dulu di ponsel.