JAKARTA, KOMPAS.com – Indonesian President Joko 'Jokowi' Widodo continued to express confidence in the government's handling of the Covid-19 outbreak in the country.
"[The government's] handling of Covid-19 is not so bad. Facts and figures show that it is better than other countries with large populations," the President said on the Presidential Secretariate's YouTube Channel on Saturday, October 3.
"Indonesia currently ranks 23rd in coronavirus cases, with nearly 300,000 people afflicted [by Covid-19]. In contrast, the United States has 7,495,136 cases, India's caseload is 6,397,896, while Brazil has 4,849,229 cases."
The former Jakarta Governor and Mayor of Solo said the country also managed to minimize economic damage from Covid-19.
Also read: Indonesia's Covid-19 Death Toll Surpasses 10,000
"The Indonesian economy did experience a 5.3 percent decline [because of the coronavirus], but the damage is still small compared to other ASEAN countries," Jokowi said.
He mentioned the more significant economic contractions in neighboring countries, including Malaysia's 17.1 percent, Philippines' 16.5 percent, Singapore's 13.2 percent, and Thailand's 12.12 percent."
He added that the Indonesian economy still fared better than other big countries. "India's economy declined by 23.9 percent, followed by the United States economy with 9.5 percent. So we as a country still have good reason to be optimistic."
However, Indonesia's Covid-19 cases showed no signs of slowing down as it went past the 300,000 mark with 303,498. The Covid-19 Task Force noted that it reached this grim milestone following the addition of nearly 8,000 cases over the weekend.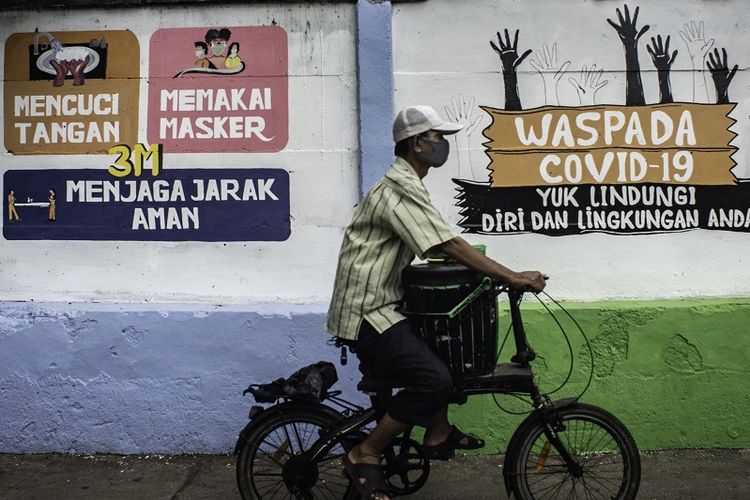 A bicyclist goes past a mural raising awareness about the Covid-19 pandemic in Petamburan, Jakarta, on 16/9/2020. ANTARA FOTO/Aprillio Akbar/aww.
Also read: Indonesian Covid-19 Task Force Warns of Looming Health System Collapse