KOMPAS.com - The passing of a person whom we immensely love, respect, admire, and look up to as a role model in our life leaves us in deep sorrow. The inevitable pain we bear could render many things around us meaningless.
This has been happening to me the past few days since the passing of Jakob Oetama, the founder of Kompas Gramedia group. Jakob died in Mitra Keluarga Kelapa Gading Hospital in North Jakarta. He was 88.
Upon receiving the news of his passing via a text message at 1:05pm local time, I did not read it right away. At the time, I was still moderating the webinar Indonesia Content Marketing Forum (ICMF) organized by Grid.id, a subsidiary company under Kompas Gramedia group.
After the event concluded at 2pm, I checked my cellular phone and saw dozens of unread messages and missed calls.
I froze upon reading the sad news. Many things felt so dull — the things I was doing, even future plans.
Amid our grief, Kompas.com, which was established on September 14, 1995, celebrates its 25th anniversary. A quarter of a century is not a short time for developing an online media that is usually easy to rise but quick to fall.
We experience our journey's rise and fall, and rise again, in search of an ideal form for the online media in a fast-paced environment that demands a lot of adaptations or adjustments.
Jakob Oetama had long ago predicted the change, and indeed the media landscape evolved as he so predicted on various occasions.
Commemorating the 25th anniversary of Kompas.com, hence, is an opportunity to commemorate the legacy of Jakob Oetama and to carry it forward.
In a piece he wrote titled "Merajut Nusantara, Menghadirkan Indonesia" or loosely translated as "Knitting the Archipelago, Presenting Indonesia", Jakob Oetama highlighted the many challenges media faced in order to adapt to the changing times.
The article appeared on the front page of Kompas when the newspaper celebrated its 45th anniversary on June 28, 2010.
Here is an excerpt from his writing: "The identity of mass media institutions, including newspapers — as part of the extension of society (de Volder) — is changing. Not only changes in the way of giving criticism with understanding, firmly in action, gently in manner (fortiter in re, suaviter in modo), but also in means or a medium for conveying."
A guest who paid his last respect to Jakob Oetama, founder of Kompas Gramedia group, reading Kompas newspaper in Kompas Gramedia building in South Palmerah, Jakarta on Wednesday, September 9, 2020.
Reflective writing 10 years ago is still relevant today. Ten years later, no guidance has yet been found in the ways and means of how mass media present amid change.
It's not only because some of us are reluctant to change, but the references for the change are constantly changing. The identity of the mass media institutions is changing.
The changes in the means, in the medium, are implemented all the time dynamically, gently to achieve the goals or things that are firmly held: Knitting the Archipelago, Presenting Indonesia.
Means and medium are not the principles
Little did we know that since its establishment on June 28, 1965, Kompas daily had been shut down by the authorities twice. Together with other news organizations, Kompas was forcibly shut down from October 2-5, 1965. And before that on January 21, 1978 along with seven other news outlets.
These two events may have been forgotten because they may not be considered as heroic events. However, these incidents, especially when Kompas was banned the second time, shaped the newspaper's character that is maintained until today.
No one knew until when the 1978 shutdown would last. He held this view of the event: "The deceased can only be remembered, but it will not be possible to fight. The struggle has not ended and it requires means, including through the mass media."
Firmly in action, gently in manner (fortiter in re suaviter in modo) had been highlighted by Jakob Oetama in his views and actions. Following an apology and promise made before the authorities, Kompas was back on February 6, 1978.
Three days later, the 32nd anniversary of National Press Day was commemorated in Solo, Central Java on February 9, 1978. During the event, each journalist shook hands with then Indonesia's President Soeharto. When it came to Jakob Oetama's turn, Soeharto reached out to hold his hand then said in Javanese dialect, "Aja meneh-meneh!" (Loosely translated as don't do it again).
President Commissioner of Kompas Gramedia Jakob Oetama. He passed away on September 9, 2020. He was 88.
My seniors in Kompas daily described what Soeharto had said at the time as short, concise, shocking, and a memorable remark. This was said by one of my seniors, J Osdar, a veteran journalist of Kompas daily and has been a state palace correspondent since the era of Soeharto to President Joko "Jokowi" Widodo.
Because of that, it made me understand why Jakob Oetama called me from Jakarta one afternoon during my tour of duty in Central Java. At that time, in August 2010 I served as Yogyakarta Bureau deputy chief following my five-year assignment as state palace correspondent from 2004-2009.
When in Yogyakarta, the book I authored titled "Pak Beye dan Istananya" (SBY and the Palace) — one in the series of Other Sides of President Susilo Bambang Yudhoyono's Tetralogy — was published by Kompas publishing company. The first book in the series was launched on August 4, 2010, two months after the 45th anniversary of Kompas daily.
When my phone rang, I was riding my bicycle from the north side of the city to the Kompas office in Kotabaru. As I had some missed calls I decided to pull over to the side of the road to answer the call.
I did not know exactly who had called me from Jakarta. I waited a few seconds and picked up the next call.
From the other end, I heard the voice of Etty Sri Marianingsih, Jakob Oetama's secretary. Etty told me that Jakob Oetama wanted to speak with me.
I took a deep breath on the side of the road while waiting for Etty to transfer the call to Jakob Oetama. I was nervous for a few seconds.
He did not say much. Jakob Oetama, whom we used to call Pak Jakob, asked how I was doing and congratulated me on the book, which was a compilation of stories about the Palace published on a blogging platform called Kompasiana. The books were sold out a week after the launch.
"Mas (brother), you're okay, right?" said Jakob Oetama, whom I called Bapak (sir).
I was too confused to answer his question because I was not aware of its entire context. I only realized the basis of his question later as I remembered the history of Kompas with the authorities in the past.
It was my first and only experience to receive a call from Jakob Oetama, the fond memory that I will always remember.
Especially after I remembered the story about how the situation was from January 20 to February 5, 1978, when the authorities shut down Kompas daily.
Soon after the Tetralogy of the Other Side of SBY was published, I came back to Jakarta in February 2011. In my duties as an editor at Kompas daily, I met Jakob Oetama more frequently during the editorial meetings.
The protective care of God
Jakob Oetama often attended the 9am editorial meeting. Although many participants attended the meetings, there was always one chair in the meeting room that would always be reserved for him. Even if he did not come, the chair was left empty.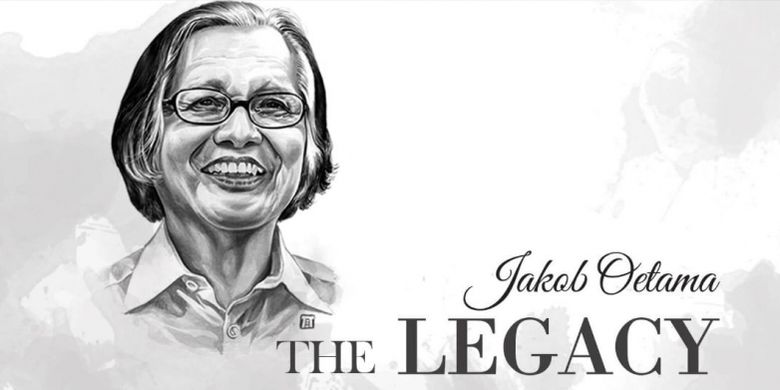 Visual Interaktif Kompas (VIK): Jakob Oetama, The Legacy. Please visit http://vik.kompas.com/the-legacy-jakob-oetama/
When he attended the meetings, Jakob Oetama often opened for discussions. It began with a question to the chief editor followed by other questions to some editors he knew. His questions would often relate to the idea of "knitting the Archipelago, presenting Indonesia".
In those meetings, the values that he believed in, lived, and fought for along the journey of Kompas daily were conveyed and instilled. His humility which was represented in a guiding principle of providentia dei (divine providence) was said softly.
Because of the divine providence (protective care of God), Jakob Oetama believed that everything that came to his life was not the result of his efforts alone. He believed it also happened in the Kompas Gramedia company. Divine providence is present.
In the commemoration of the 25th anniversary of Kompas.com, which was founded on September 14, 1995, we want to keep his values alive in the midst of the journey that is full of changes. In doing so, we map out three stages.
First, during its early days, Kompas.com published the news from Kompas newspaper. They shared a newsroom, employees, and the entire news content. From the reader's side, there were no demands as the growth of online media was still nascent. The first period took place from 1995 to 1998.
Second, in 1998 kompas.com was spun off from the printed edition and produced its own stories, which were different from Kompas. It had its own newsroom, its employees recruited separately although some straddled between digital and print. Readership started to grow and led to the creation of a new business model. In this second period, the brand was known as KCM, which stood for Kompas Cyber Media.
Third, the rebirth period in 2008. The brand evolved from KCM to kompas.com. This online media is rebranded to directly reflect its mother entity. Pak Jakob himself requested that the name of the online version of Kompas should not be different.
It was Pak Jakob's dream to establish the company's multimedia reach to keep readers abreast of new developments. He wanted readers to identity the Kompas spirit across platforms: print, digital, and television.
He also hoped that Kompas could reach wider audiences.
These ideals were fully realized when Kompas TV finally went live for the first time on September 9, 2011. The mission to go multimedia has been completed.
In this third period, Kompas.com adopted all the characteristics of the digital media which make journalism more complete.
The newsroom is independent. The content is created with a different approach from the newspapers because online readership has different characteristics. The content model is in line with a viable business model.
We believe this is not the end of change. As Jakob Oetama has said, change is the identity of the media, so we are prepared for the changes throughout the times.
Seeing hope
What do we hold on to? Hope. We should have the ability to see hope and hold on to it. Therefore, "Seeing Hope" is the theme of the silver jubilee of Kompas.com for the year ahead.
To see and hold on to hope is an expression of our gratitude for today, that stops us from clinging on to the past, and moving firmly into the future.
May you overflow with hope,
Wisnu Nugroho
(Editor : Heru Margianto)
Source: https://www.kompas.com/tren/read/2020/09/14/092259965/25-tahun-kompascom-dan-cita-cita-jakob-oetama?page=all.
Dapatkan update berita pilihan dan breaking news setiap hari dari Kompas.com. Mari bergabung di Grup Telegram "Kompas.com News Update", caranya klik link https://t.me/kompascomupdate, kemudian join. Anda harus install aplikasi Telegram terlebih dulu di ponsel.