JAKARTA, KOMPAS.com – Indonesian singer Erdian Aji Prihartanto alias Anji and a man who claims to be a university professor are in hot water for touting a remedy for the Covid-19 virus that many dismissed as quack medicine.
The Jakarta Metropolitan Police summoned Anji and Hadi Pranoto after the Cyber Indonesia organization reported the two for spreading lies and hoaxes about Covid-19.
"[The police] will ask Anji to clarify his interview with Hadi called 'Can We Return to Normal? Covid-19 Drug has been Found!', which was uploaded on his YouTube channel Dunia Manji," Jakarta Police spokesman Yusri Yunus said on August 4.
Also read: Indonesia's Indofarma to Launch Rapid Test Kits Soon
He declined to specify a date for the summons on grounds that the police are still studying the report.
Head of Cyber Indonesia Muannas Alaidid said their statements are "detrimental to [the] hospital [industry]." He added: "Rapid tests and swabs can cost hundreds of thousands or millions of rupiah, instead of 10,000 to 20,000 rupiah as [Hadi] claimed."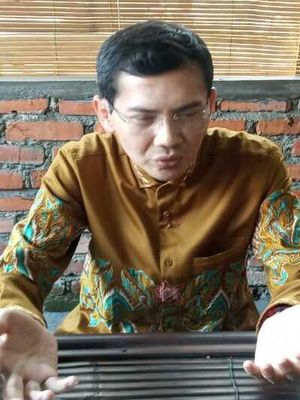 Hadi Pranoto gives a press clarification
"This can undermine public confidence in hospitals, as they believe the latter is out to extort them and profit [from the pandemic]."
The Indonesian health ministry also dismissed Hadi's cure.
"No organization in Indonesia or around the world has yet to produce a vaccine [for Covid-19], though Indonesia is cooperating with the WHO in developing one," said Slamet, the ministry's head of research and development.
Slamet contradicted Hadi's claim in the video with Anji that he has "distributed over 250,000 units of the remedy to people in Sumatra, Java, Bali and Kalimantan."