KOMPAS.com – President Joko 'Jokowi' Widodo has unintentionally pushed sales of a Made-in-Indonesia folding bike through the roof soon after he ordered a unit for himself and another for First Lady Iriana Widodo.
Bicycle manufacturing startup Kreuz now has to deal with the surge in orders, but they're not complaining.
Just before the VIP purchase, times had been good for Kreuz as the newfound mania for cycling throughout Indonesia due to the Covid-19 pandemic kept demand for the company's trademark folding bikes going.
Now word about the bikes has gone to the top following news of Jokowi being one of its customers.
"[Jokowi] ordered the [bikes] discreetly through his staff, before coverage by Kompas.com and other media outlets overwhelmed us with orders," said Kreuz founder Jujun Junaedi.
Also read: Coronavirus: More Cyclists to Keep Fit, Bike Sales Boom in Indonesia
"Like other customers, Jokowi waited in line with everyone else and made a down payment. He ordered a full bike painted red and white [after the Indonesian flag] for himself and First Lady Iriana Widodo."
He declined to say the cost of the bike, which cost up to Rp. 8 million [USD$545] depending on customizations, on a frame with a basic price of Rp. 3.5 million.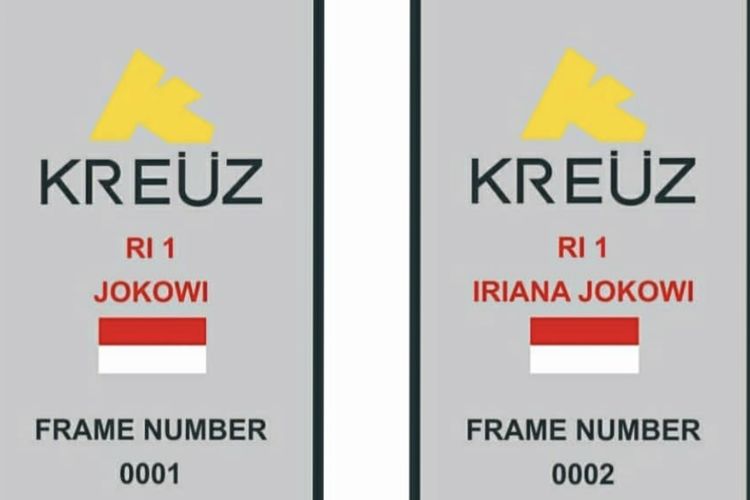 Serial numbers for Kreuk folding bikes ordered by President Jokowi
Kreuz co-owner Yudi Yudiantara agreed.
"We are expected to finish the bikes ordered [by President Jokowi] next August."