PURWOKERTO, KOMPAS.com – The dune buggy-like car weaved its way through the main square of Purwokerto, the main town of Central Java's Banyumas Regency, as its creators took the car for a spin.
The hype surrounding the car dubbed the AHC 01 prototype has drawn none other than Banyumas Regent Achmad Husein, who also got behind the wheel.
Local engineer Johanes developed the AHC 01, with a little help from four youths from Purwokerto's Kober district.
"I was inspired to develop the AHC 01 following President Jokowi's 2019 order on developing battery-powered electric cars," said Johanes in an interview at his home and workshop.
"I also wanted to make the car to help local youths be more self-sufficient."
A simple power plant
Johanes said that he and his associates have been researching and manufacturing the car since August 2019.
"The AHC 01 is powered by six 12-volt dry batteries. The propulsion system is quite simple, as electricity from the batteries powered the car engine.
"The car also has three gears, two forward and one in reverse.
Also read: Astra International: Indonesia's Automotive Industry Poised to Recover
"The car is then powered and controlled by a custom made controller," he added. "Many of the materials are readily available in Purwokerto."
The batteries need up to six hours to fully charge the AHC 01, which can accommodate two people.
"Right now the car has a top speed of 80 kilometers an hour, and is currently undergoing speed trials of distances up to 70 kilometers," Johanes said of the 300-kilogram vehicle.
"But it can cover a range of 110 to 120 kilometers at cruising speed."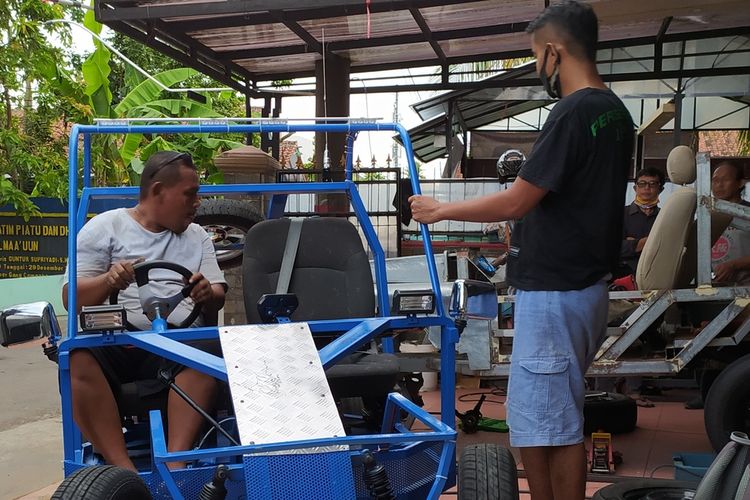 Electric car workshop in Purwokerto
Learning by doing