AMSTERDAM, KOMPAS.com – The backlash against racism and the colonial past of many Western countries after African-American George Floyd's death at the hands of white policeman Derek Chauvin continued to rock the world, not least in Indonesia.
Recently, Indonesian social media users directed their wrath on the Dutch royal family, after one of their properties depicted images of Dutchmen enslaving Indonesians.
"The painting is called Hulde der Kolonieen or Tribute of the Colonies, and it was painted on a [Dutch royal family] carriage called the Gouden Koets or the Golden Coach" said history buff Lorraine Riva to kompas.com through her Twitter account @yoyen on Tuesday (9/6/20).
"It was meant to show the Dutch colonies in the East Indies or present day Indonesia and the West Indies [the Caribbean and South America] pay tribute to Queen Wilhelmina on her coronation in 1898. Today it might be interpreted as a celebration of colonialism."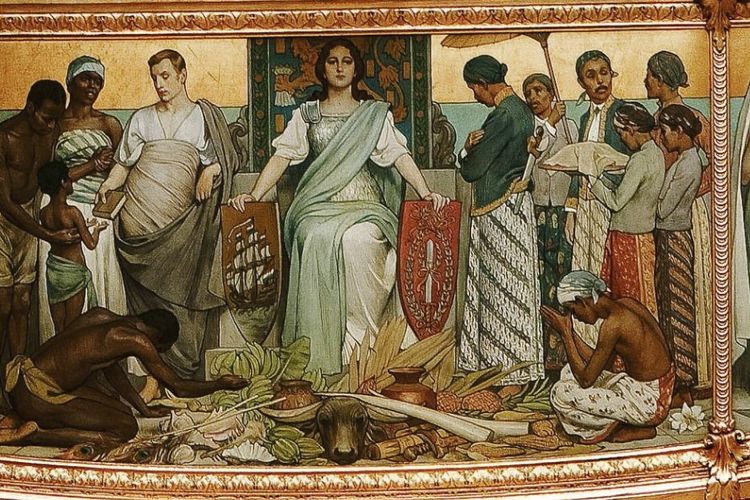 The 47-year old added that Hulde der Kolonieen was one of four panels on the Gouden Koets painted by Dutch artist Nicolaas van der Waay. The painting depicted a number of Javanese persons in deferential poses as they offered sugarcane, bananas and other crops.
Also read: Heboh, Kereta Emas Belanda Bergambar Perbudakan di Indonesia, Ini Penjelasannya
"The panels, which were made in a Renaissance style to evoke the Dutch Golden Age, symbolized the Dutch Empire and its rich natural resources. The Indonesian slaves represented the Dutch East Indies, while the African slaves represented the West Indies, including today's Suriname and the Antilles" said Lorraine of the Gouden Koets, which was a gift from the citizens of Amsterdam for Queen Wilhelmina.
"Despite the carriage's name, it was primarily made of teakwood from Java. Ivory from Sumatra was also used to decorate the vehicle, as well as leather from the Dutch province of Zeeland."
However, Lorraine is optimistic that the Netherland's progressive King Willem Alexander could make a difference. "The King is known for his modern [outlook], so there is a possibility that he will not use [the Gouden Koets]. After all, he took the initiative to apologize to the Indonesian government during his state visit to Indonesia earlier this year."
The controversy surrounding the Gouden Koets has raged since 2011 in the Netherlands, after a legislator and historian called for the dismantling of the Hulde der Kolonieen panel. The Netherlands colonized Indonesia for 350 years, until the latter declared its independence in 1945. (Writer/Editor: Aditya Jaya Iswara)
Source: https://www.kompas.com/global/read/2020/06/10/130133470/heboh-kereta-emas-belanda-bergambar-perbudakan-di-indonesia-ini?page=all#page2
Dapatkan update berita pilihan dan breaking news setiap hari dari Kompas.com. Mari bergabung di Grup Telegram "Kompas.com News Update", caranya klik link https://t.me/kompascomupdate, kemudian join. Anda harus install aplikasi Telegram terlebih dulu di ponsel.